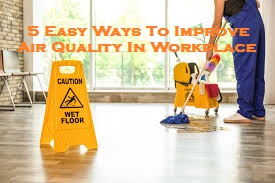 Breathing fresh, quality and clean air is necessary for good health. The pollutants present indoor, especially in the workplace, can lead to a variety of symptoms and health conditions such as asthma, headaches, nausea, respiratory problems, colds, ENT irritations, and allergies. Apart from affecting the physical health, poor air quality can negatively impact the cognitive performance and productivity of the employees. This emphasises the importance of opting for regular commercial cleaning services from professional commercial cleaning in brisbane company.
Here Are Some Easy Ways To Improve Air Quality In Workplace:
Improve Air Ventilation:
Whenever possible, turn off your HVAC unit and keep the windows opened to allow fresh air enter the building. Avoid placing storage boxes, cabinets, chairs and furniture in front of the air vents as it can disrupt air circulation.
Take Care Of Air Filters:
Your HVAC's air filters require regular cleaning as the clogged and dusty filters can affect airflow and increase the amount of allergens and pollutants in the closed environment.
Deal With Spills Immediately:
If someone has dropped a cup of coffee or beverages, you need to make sure that it is cleaned up as soon as possible. The same goes for pipe leaks. The excess moisture facilitates mould growth which can affect air quality significantly.
Dispose of Garbage Promptly:
If not disposed of regularly, garbage can generate unpleasant odour. So, it is important to make sure that you are disposing of kitchen garbage promptly and disinfecting dining areas properly.
Clean Your Workplace Regularly:
A clean indoor environment has very low levels of dust, allergens, mould and contaminants, so it is extremely vital to clean your workplace on a regular basis. Also, consider using eco-friendly cleaning products that don't release harsh chemicals into the air.
Need Help?
 If you need help with cleaning your commercial premises and improving its indoor air quality, get in touch with Sunshine Eco Cleaning Services. As a leading provider of commercial cleaning services in brisbane, we have been helping businesses across Sydney, Brisbane, Adelaide and Sunshine Coast with all their cleaning needs. Our commercial cleaners brisbane are specialise even in office cleaning, carpet cleaning, window cleaning and other cleaning chores. If you have a cleaning project, feel free to call 1300 356 397 and talk to us today.