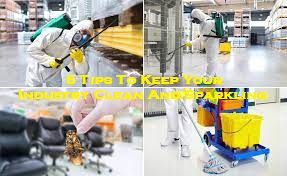 For the operators of industries and warehouses, maintaining clean and organised premises is one of the most tedious jobs to deal with. To help you out, we have compiled this commercial cleaning guide with everything you need to keep your manufacturing plant as clean as possible.
Set Regular Cleaning Schedule:
Doing small cleaning tasks periodically is much easier than conducting a massive cleaning process. While the floors need to be swept daily, risk areas such as forklifts and racks should be given attention at least twice a month. To ensure this, assign cleaning tasks on a daily, weekly, fortnightly, monthly or quarterly basis as per your cleaning requirements.
Implement Instant-Cleaning Policy:
Any task that leaves residues behind should be immediately dealt with. For instance, unpacking and shipping containers generates a lot of waste wrapping which should be cleared as quickly as possible. Implementing this policy strictly will ensure that your warehouse/factory remains clean with no build-up of waste.
If you would like to use your in-house staff to perform the cleaning task, make sure that each employee in your office is designed an area to clean. It must be their responsibility to keep the designated area clean and organised.
Provide Adequate Cleaning Supplies:
In order to maintain a tidy and clean factory, it is important to provide your employees with all the equipment they need to complete their cleaning duties efficiently. Make sure that you have replenished cleaning agents, brooms and wipes at regular intervals so that they are readily available for them.
Hire Industrial Cleaning Company:
If you don't want to involve your employees to clean your industrial facility, you can consider hiring a commercial cleaning brisbane company to handle the task. Involving your employees in cleaning your premises will decrease your business's productivity. So, it is really worthwhile to partner with an industrial cleaning company.
Call Commercial Clean Melbourne:
As the most recognised and well-established commercial cleaning company, Sunshine Eco Cleaning Services has been providing professional cleaning services to the businesses of all sizes and types in Sydney, Brisbane, Adelaide and Sunshine Coast. Equipped with years of experience under our belts, our commercial cleaners brisbane can get your industry cleaned to the highest standard. For more information on our commercial, industrial and office cleaning services brisbane, feel free to call 1300 356 397 and talk to us today.