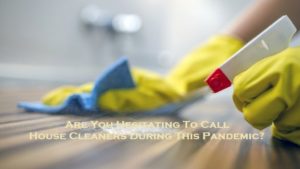 Well, COVID-19 has taught us many things, cleaning and disinfection are one of them. Whether this is your first time hiring a house cleaning services in sunshine coast, or you're welcoming your regular house cleaning team back after the announcement of COVID-19, it's safe to say that cleaning practices are different now. You might be worried about how to keep your family safe during this pandemic. If you're a little hesitant about hiring domestic cleaners in sunshine coast at this period, we are to help calm your fears and lend some guidance on that.
Plan, Prepare & Discuss
If you're at home, respect physical distancing guidelines and leave the room when the cleaning team is doing the work. Initially, do a thorough cleanup, and ensure your children and pets are safe in a separate room. As the house cleaner cleans the rest of your home, ask them to call carpet cleaning when they are done to switch places. By following this procedure will allow for proper physical distancing.
On The Day Of The Cleaning
Gently open all the windows and doors of your home for good ventilation. The increased ventilation will increase air circulation. Also, ask the house cleaners to wear shoe covers before they enter your home. This will help prevent the dirt from being tracked indoors and eliminates the need for them to remove their shoes.
Get the hand sanitisers and disinfectant wipes at the door. When they enter your home ask them to sanitise their hands and wipe down doorknobs.
Check whether they come with extra face masks and gloves, if not you can also provide them. Ensure to keep their bags and belongings in a secure place.
Make it a rule to keep soap at all sink. As Hand hygiene is crucial, it would be useful for them during the cleaning process.
Hand them your cleaning checklist and let them know your specifications and cleaning concerns, it will make the job easier for them to complete quickly and efficiently.
Finally, make way for them to commence the cleaning and also check-in and inspect the areas while they finish. Giving respect to them and allowing them to do their work will go a long way, and do not forget to practice physical distancing.
By following these practices, you can be safe and also your house will be thoroughly cleaned & sanitised, and you will have a clean & refreshing home.
Over To You
If you're worried about house cleaning, let our house cleaners sunshine coast take the stress out of you at this time. For bookings, call Sunshine Eco Cleaning Services on 1300 356 397.