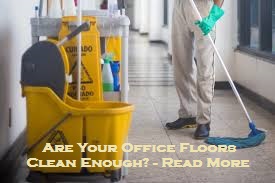 Floor care is an important aspect of a business that people are not aware of. It's the gateway to your business and should be kept neat. Whether it's carpet, wood, or tile flooring, it's vital to clean and sanitise your floors in the workplace. Regular foot traffic inevitably collects the dust, dirt, and other allergens that degrade its entire appeal as well as your business flow. However, well-maintained floors are not the only equation for ensuring a positive impression. It's necessary to invest in company like commercial cleaning services in brisbane where you get not only the clean and sparkling floors, but the entire facility can shine with cleanliness. Let's see in detail.
Clean Floors Sets The Impression
When customers walk into clean and well-maintained floors, they immediately notice the cleanliness and create a positive impression about the rest of the office as they walk in. Whereas dirty floors make them question how the rest of your building will look like. It downgrades your business reputation. Clean floors create a good note about your company's professionalism, attention to detail and level of cleanliness that you maintain. So, investing in commercial floor care or taking a commercial cleaning service regularly will help you maintain the standards you have set.
Safety Is Priority
More than the aesthetics and cleanliness, floors that have been worn-out or slippery or not maintained can pose threat to customers who enter the facility. You can control the possibility of floor accidents by keeping a team of office cleaning in brisbane professionals to maintain your floors. They understand the type of flooring you have and use the right cleaning solutions to clean & maintain them.
Let Professionals Deal With It
If you have carpeted flooring in your facility, then the frequency of cleaning is high. Too much foot traffic and a poor cleaning job won't do any good, other than costing you money. Also, it becomes the haven for bacteria and germs to thrive. When you give the job to a office cleaners brisbane professional, they'll recommend the right cleaning solution for your carpet flooring and ensure to maintain them at their best. So, your carpet floors will consistently look appealing and speak for themselves.
Bottom Line
Need a cleaner, safer & healthier facility? Hire expert commercial cleaners brisbane from Sunshine Eco Cleaning Services. For appointments, call 1300 356 397.