Biohazard Cleaning Brisbane
Exposure to chemical and biological contaminants can lead to serious health problems. Failing to remove such contaminants and hazardous substances can contribute to dangerous environments.  At Sunshine Eco Cleaning Services Brisbane, we are professionally trained to clean and remove biological components from all types of properties in Brisbane in compliance with safety and health regulations. With high-tech cleaning products and safety apparatus, we can quickly transform any unsafe environments back into safe homes and workplaces.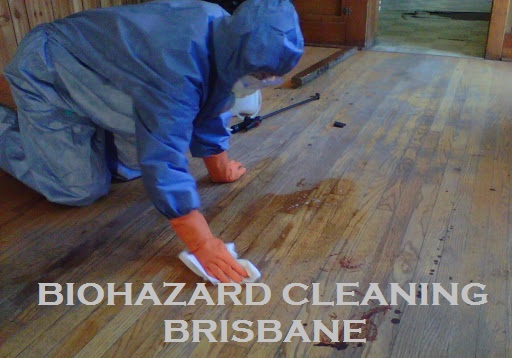 Importance Of Biohazard Cleaning:
In case of an accident or death where blood or bodily fluids are present, you may be at the risk of exposure to biohazards and blood-borne pathogens such as Hepatitis viruses, MRSA bacteria, etc. Due to these potential dangers, we have developed a safe remediation process that can protect the health of the occupants and well-being of the affected properties. We follow the industry protocols and equip ourselves with the most suitable personal protective equipment to minimise our exposure to those hazardous materials. 
Our Biohazard Cleaning And Decontamination Process: 
Sunshine Eco Cleaning Services adopts a comprehensive remediation process that involves the following steps:
Step 1 – we conduct a meticulous inspection and safety hazard assessment of your property.
Step 2 – we deploy cross-contamination protocol by separating the affected area from other parts of the structure.   
Step 3 – we remove and clean all visible traces of blood and bodily fluids from the affected area.
Step 4 – After removing the contaminants, we clean, disinfect and deodorise the affected area using the best-rated disinfectants. 
Step 5 – once we are done, we use advanced testing technologies to guarantee the highest standard of disinfection. 
Cleaning for COVID -19:
When it comes to the novel Coronavirus, there is much to learn. Though infections can spread from person-to-person, coronavirus can remain viable on surfaces for hours to days. Regular cleaning of dirty surfaces followed by disinfection is the best measure to prevent the spreading of COVID-19. Sunshine Eco Cleaning Services provides coronavirus cleaning & remediation services throughout Brisbane. We regularly consult with the health department to remain updated of this fatal disease. This helps us provide efficient cleaning and disinfectant services to our Brisbane customers. 
If you have any question on our cleaning process of any cleaning services like office & commercial cleaning, window cleaning, house cleaning, bond cleaning, carpet cleaning, we invite you to call our cleaners Brisbane at 1300 356 397.