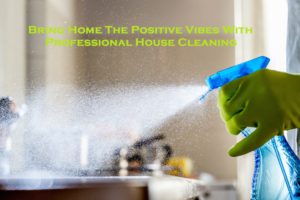 As COVID-19 has made a great impact on people's lives, the quarantined house lifestyle appears to be a nightmare for many people. A period of uncertainty has put people in real trouble and needless to say, people's mental and physical well-being are at stake. What can you do to retaliate? Well, the answer lies in clean and pristine atmosphere. Yes. If you keep your house and surroundings clean and tidy, you can curb the negative vibes and the spread of infections that revolve around. You can simply hire a professional house cleaning sunshine coast company for all your house cleaning needs!
House cleaning not only helps to keep your house inviting and welcoming, but also mentally you will feel energised. Though cleaning is a huge task, you can devote yourself in cleaning and decorating the house will bring in the positive vibes and you'll witness a great change in atmosphere and family. So, if you're curious to know what's inside this blog, we bet you read on.
Regular cleaning routine like vacuuming, dusting, mopping the floors, changing the linens, gardening, will keep your space clutter-free and you can certainly improve your house's look.
Also, deep cleaning of the gutter, ducts, air conditioning vents, window blinds, would get rid of all the dust and allergens. So, if people at home are sensitive to dust allergies, a deep carpet cleaning service would fix this and your space will be safe to live.
Is your living room having bad odours? Immediately, check your carpets & vacuum them to get rid of the stain. Also, consider hiring professional domestic cleaners sunshine coast from cleaning companies to help you out.
Concentrate on all the high-touch points and sanitise them thoroughly.
With the virus spread at its peak, disinfecting the cleaning tools and other usable materials can be helpful.
If you find that your windows and doors are unappealing, make sure to wipe them completely with mild cleaning solution and a squeegee. Kitchens and bathrooms should be kept dry and clean. This is where the rats and other pests would take their shelter. Always keep a check on these areas that need your attention.
Over To You
If you're looking for domestic cleaning sunshine coast services? Hire house cleaners sunshine coast to help you out, give Sunshine Eco Cleaning Services a call on 1300 356 397.