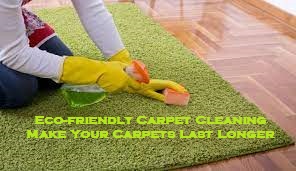 Carpets are a haven of dirt and germs, but they may not be immediately apparent to our eyes. Even clean-looking carpets harbour mould, mildews, dander and fungi, all of which cause allergies and infections. In order to ensure that the carpets are not only cleaned properly but also no harmful chemicals are left behind, it is best to opt for eco-friendly carpet cleaning services in sunshine coast company. Here are a few ways to clean your carpets in an eco-friendly manner.
Steam Carpet Cleaning:
This method uses hot water at high pressure to get through the carpet fibres and dissolve and dislodge germs and dirt. Using a cleaning agent is important in this method, but there are several eco-friendly products available in the market today. These green cleaning agents will not have any toxic effects or pose health risks to the occupants.
Dry Carpet Cleaning:
This method is highly effective at deep cleaning your carpets. With this technique, you can enjoy the convenience of having your carpets cleaned without wetting them. As not even a single drop of water is used, your carpets are ready to use and walk on immediately, making this method the ideal solution for businesses and homes as well.
Commercial Steamer:
You can buy or rent a commercial carpet steamer for your home or office. If you rent one, make sure that you clean out the chamber with warm water thoroughly in order to flush out the residue. By this way, you can get rid of any left-over chemicals and pesticides, thus hampering their recirculating into your home.
Call The Pros:
Don't find the time to clean your carpets yourself? Why not call the professional carpet cleaners sunshine coast of Sunshine Eco Cleaning Services? Specialised in all sorts of commercial cleaning services in sunshine coast, we provide eco-friendly cleaning solutions for your expensive carpets and upholsteries. Equipped with high-end equipment and green cleaning agents, we can clean your carpets without causing any damage to them. To learn more about our carpet cleaning services, feel free to call 1300 356 397 and talk to us today