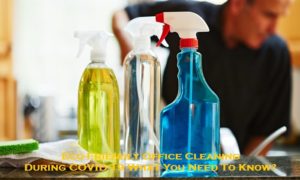 With the widespread of COVID-19, cleanliness, sanitisation, and disinfection have become a recital all over the world. While businesses consider hiring office cleaning services in sunshine coast at this time, it's vital to be mindful of how to prepare your office environment to make your staff and other working people safe. If you're a small office or a large commercial building, you can switch to eco-friendly office cleaning to make your day in the office cleaner, greener and healthier for you and your co-workers.
Steam Cleaning
Steam cleaning is one of the best and safest ways to clean your office. It avoids the need for using abrasive, toxic chemicals and cleaning solutions that can be harmful to you.
Hire Eco-Friendly Cleaners
When you're looking for eco-friendly service make sure they accredited to do the job. Only they will use green products that are safer and can eliminate the risks of burns and airborne toxins by using environmentally responsible products. As a socially and environmentally responsible business, they are aware of the environmental damage caused by businesses of all sizes and show their commitment to eco-friendly practices ensuring less pollution to the environment.
Curbing Office Wastes
Reducing the amount of rubbish will have a significant impact on your bottom line. As you reduce the amount of waste that's hitting the garbage bin, you can work with your office cleaner to separate the items for recycling.
Improve Indoor Air- Quality
Check out your office carpets, air conditioner and windows. They are a haven for dust particles across your office. Clean and fresh air is necessary for the health and well being of staff and cleaning and regular maintenance are essential. By hiring an eco-friendly office cleaning service & carpet cleaning, you can induce fresh, clean, and green air in your office.
Bottom Line
If you're looking for professional office cleaners sunshine coast, give Sunshine Eco Cleaning Services a call on 1300 356 397.