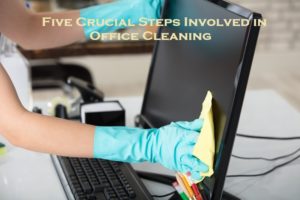 If you own a business, you want to provide a pleasant working environment to your employees and project a positive image to your business partners, clients and customers. To ensure this, you should have your business premises cleaned, sanitised and disinfected on a regular basis. Regardless of the area that needs cleaning in your office, there are certain steps that you should follow to enjoy a high standard of cleaning. You can also simply hire a professional office cleaning sunshine coast company for all your office cleaning needs!
Step 1 – Dispose Of Trash:
The very first step that you should take before you begin the actual cleaning procedure is to empty and dispose of the garbage bags and liners.
Step 2 – Dusting:
The next step involves dusting the dirt and other deposits accumulated in the working space. To dust ceilings and high-rise windows, you can make use of ladders to reach the spot.
Step 3 – Damp Wipe:
The next step involves applying a neutral disinfectant to all high-touch surfaces, including phones, light switches, desks, door knobs, etc. This is a crucial step because the disinfectant can kill bacteria and other germs present on these surfaces.
Step 4 – Clean With Dry Mop:
With all the high surfaces cleaned, it's the time to clean the lower areas. This step is all about using a mop to collect the floor dust. Before mopping the floor, it is important to move around the bulky items to ensure that no corner is left with dirt.
Step 5 – Clean With Wet Mop:
Wiping off the floor with wet mop using floor cleaning agent adds a very delicate finish to the floor. Mop around the edges of the room as best as possible as this may be the place where more dirt gets accumulated.
While this is a standard procedure to clean a working place, some steps may vary depending upon your business type. For personalised office cleaning services in Sunshine Coast, Adelaide, Brisbane and Sydney, you can contact Sunshine Eco Cleaning Services for our office cleaners sunshine coast on 1300 356 397.