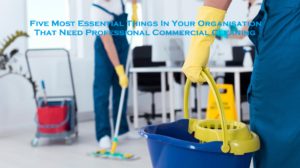 Has it been a while since you have your commercial space professionally cleaned? Don't have idea about where to start from, what services you really need and how often you require them? Well, here is an insightful commercial cleaning guide for you.
Floor:
Floors are one of the most overused assets in the agency. Overtime, you will notice that its finish starts to degrade due to the accumulation of dirt and debris. A regularly scheduled floor cleaning program ensures that your floors look their best year round.
Carpet:
If you have laid carpets in your office, you should opt for a regular deep cleaning program in addition to daily maintenance to keep it looking and smelling great. It is recommended to implement a seasonal cleaning program that includes stain removal, spot treatment and steam cleaning to restore your carpet's appearance and help increase its lifespan.
Upholstery:
Do you remember when your upholsteries were deep-cleaned last time? As a business, you will have many people visiting your workplace every day. Also, you may have a number of employees working in your office. In that case, you should have your upholstered furniture deep cleaned at least once a year.
Washroom:
Washroom is one of the most heavily used spaces in your organisation, and maintaining it is a difficult task too. While it is important to implement a daily cleaning program, it is equally imperative to opt for a deep cleaning schedule to get rid of the smells, stains and dirt that accumulates over time.
Interior, Windows, Partitions and Fixtures:
Though your regular commercial cleaning program includes window cleaning, things like sills, frames, glass, etc. are often overlooked. The same applies for light fixtures and partitions too. The accumulation of dirt and debris on these elements can ruin the look and feel of your entire commercial space, so you need to make sure that they get a special attention.
For professional commercial cleaning in Brisbane, Sydney, Adelaide and Sunshine Coast, you can trust the commercial cleaners brisbane of Sunshine Eco Cleaning Services. To schedule an appointment with us, feel free to give us a call on 1300 356 397.