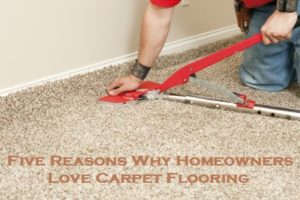 Now, more than ever we are seeing people building homes that serve as a safe haven for their families. When it comes to building a home, one of the most important factors that should be given utmost consideration is the type of flooring. For more than a decade now, carpet flooring has been a popular choice for homeowners. It is no wonder because it offers a number of benefits to the occupants. Here are a few reasons why homeowners love carpet flooring. You can also simply hire a professional carpet cleaning in brisbane company for all your carpet cleaning needs!
Reason 1 – Comfort:
No one denies the comfort that a carpet could offer. It is not only soft and warm underfoot, but also a natural insulator and can muffle noise effectively. Moreover, it is the ideal floor covering for family rooms, living area, bedrooms and any part of the home where you would like to kick back and relax.
Reason 2 – Safety:
If you have small children or elderly people living in your home, carpet flooring can be extremely beneficial. It protects your loved ones from slips and falls by providing a cushioned landing when an accident occurs.
Reason 3 – Versatility:
Carpet offers the ultimate choice in design, fibre, colour and pattern options, allowing you to depict your personality in a better way. Looking for a durable variety? Or have a unique design idea in mind? You are sure to find the carpet that suits your personal preferences.
Reason 4 – Cost-Effective:
Depending on the style, colour, pattern and fibre you select, carpet is one the most cost-effective flooring options available. If you believe that your home needs a facelift, carpet could be a great way to spruce up the space without breaking the bank.
Reason 5 – Less Maintenance:
A carpet tends to trap allergens, dirt and other impurities, and is prone to mould and mildew, but it requires less maintenance to upkeep its new look. Simply having your carpet vacuumed can make it look new again.
If you would like to give your carpet a new life, you can count on carpet cleaning services offered by Sunshine Eco Cleaning Services. Serving households and businesses across Sydney, Brisbane, Adelaide and Sunshine Coast, we specialise in both dry carpet cleaning and steam carpet cleaning methods. To learn more about our cleaning services, give our carpet cleaners brisbane a call on 1300 356 397 and talk to one of our representatives today.