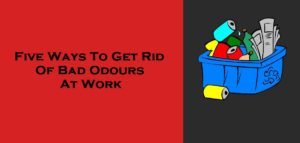 A regular office cleaning regimen will ensure that your business premises are well-maintained and kept in tip top condition. Whether you own a retail store, restaurant or an organisation, keeping your workplace fresh, clean and tidy makes a lot of sense. Apart from dust and dirt, another factor that you should always pay attention to is the bad odour in your office space. While foul smells divert our attention, they could even make employees sick, indicating an indoor air quality problem. If you are plagued with a lingering musty smell in your office, here is how you can get rid of it.
Address The Source – sometimes, a trash-can with smelly contents may be the source of the nasty smell. Keeping it outside to air it out or cleaning out it can go far in eliminating the odours swiftly.
Ventilate – if you have doors and windows in your office space, have them opened so that fresh air can blow inside to eradicate odours naturally and quickly. Airing out your workplace adds freshness and reduces the stale smells.
Run the fans – Running the air conditioning unit or ceiling fans and kitchen fans can help moving the stagnant air around and improve the circulation of the air in the room while pushing the odours towards the exit.
Look Into The Fridge – If the microwave or fridge is the culprit, remove all offensive food from it and clean it out with soapy water. Try to prepare some coffee as it can reduce the unappealing smells coming from your lunchroom or kitchen areas.
Call For Help – If you have tried all the ways but still not able to keep the smells at bay, you can hire commercial cleaning brisbane experts to handle the situation.
Call Sunshine Eco Cleaning Services:
For office cleaning in Brisbane, Sydney, Sunshine Coast and Adelaide, you can rely on Sunshine Eco Cleaning Services. Our professional office cleaners brisbane are well-trained, insured, bonded and work in compliance with the safety and highest cleaning standard. Call us now on 1300 356 397. Let's do the work for you on a regular basis.