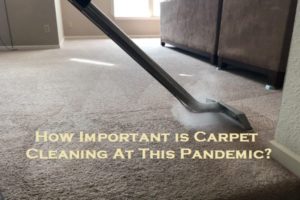 As the outbreak of coronavirus continues to be the headlines all around the world, people are becoming more and more concerned about infections. Besides all these facilities, such as offices, schools, hospitals, restaurants and hotels are also delving into deep cleaning and disinfecting of the high-touch surfaces to curb the spread of the infection. Whether you're a business facility or an active household, you should not overlook the importance of proper carpet cleaning. Being mindful of the cleaning, sanitising and disinfecting your carpet will protect you and your visitors, as well as your carpet's investment. You can also simply hire a professional carpet cleaning brisbane company for all your carpet cleaning needs! So, here's what you should do:
Clean, Sanitise, Disinfect
Coronavirus may stay on surfaces for a few hours or even days. So, you must pay attention to both hard and soft surfaces, which includes your carpet as well.
Carpets trap in the dust, dirt, pollutants, allergens and much more.As carpet helps to improve indoor air quality, it is important to thoroughly clean them regularly to remove the build-up of soil and other potentially harmful particles that settle deep into carpet fibers. Also, ensure that regular vacuum cleaning is properly maintained. Hire a professional carpet steam cleaning brisbane company for carpet steam & dry cleaning needs!
Sanitising is important as it prevents the bacteria from entering your carpet. To sanitise your carpet, you can use an approved disinfectant wipe or spray and help prevent the spread of germs. Also, while sanitising your carpets, ensure to follow the manufacturer's instructions.
Bottom Line
Then, adhering to regular carpet care and maintaining a carpet cleaning schedule using will ensure that you are free from disease-causing pathogens.
By increasing the frequency of cleaning, sanitising and disinfecting carpet during this pandemic, you can help curb the spread of infections.
Over To You
If you're looking for professional carpet cleaners brisbane for all your carpet cleaning services, call Sunshine Eco Cleaning Services on 1300 356 397.