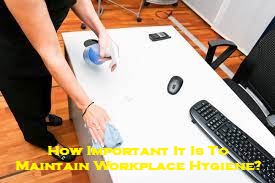 Workplace environments should be clean, hygienic and safe for the employees, customers, clients and everyone visiting the business. Workplace hygiene involves several aspects such as work area cleanliness, personal hygiene and toilet facilities being clean at all times. Poorly maintained and unhygienic environment can cause health and safety issues, especially if proper attention is ignored in commercial cleaning. Hire a professional commercial cleaning in sunshine coast company for all your commercial cleaning needs!
Benefits Of Maintaining Proper Workplace Hygiene:
No matter what business you own, cleanliness and hygiene are of utmost importance for the following reasons:
To Encourage Employees To Be More Productive:
Having a workplace with a good level of hygiene plays a huge role in ensuring the happiness of the employees. When they are happy and feel comfortable, they will be more productive and inspired in doing their job well.
To Enhance The Image Of Your Business:
Employees are not the only individuals who come into your office. Your business partners, clients, customers and investors could also visit your business. Poor workplace hygiene can leave a bad impression, and as a result your potential clients and partners may lose their trust in your business.
To Prevent Illness Of Your Employees:
An unhygienic workplace may increase the chances of your employees getting sick as well as the cases of absenteeism. Implementing proper work hygiene in place will help preventing the spread of harmful bacterial and viruses.
How To Maintain Good Workplace Hygiene?
Here are some tips over how to maintain good workplace hygiene:
Encourage regular hand-washing and sanitising
Educate your team on health risks and hygiene measures
Supply disinfectant wipes and hand sanitiser to your team
Use signage to reinforce information
Use technologies to reduce the need to touch surfaces
Encourage good personal hygiene
Make sure your staff eat only in designated areas
Appreciate employees who maintain workplace hygiene
Install a garbage disposal system
Hire professional office cleaning services
In this pandemic condition, you should not leave office hygiene and the safety of your employees at risk. Reach out to Sunshine Eco Cleaning Services for your commercial cleaning needs from commercial cleaners sunshine coast. Serving businesses across Sunshine Coast, Brisbane, Adelaide and Sydney, we can help you with carpet steam cleaning, window cleaning and other commercial cleaning needs. For appointments and a no-obligation quote, call us on 1300 356 397.