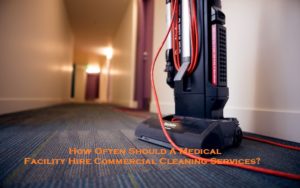 The Covid-19 pandemic has changed the way that we live and communicate with others, as well as where and how we work. When it comes to the commercial sector, one of the industries that have been severely hit by this outbreak is the medical and healthcare facilities. Due to the growing outbreak of the virus, every business, office and commercial facility, and establishments that are prone to public gatherings or close social interactions are becoming a hotspot for Covid-19. This is where commercial cleaning and disinfection has become a necessity that no one could or should avoid. As doctor's offices, clinics, healthcare care facilities, are at the highest risk in combating the virus. So, frequent cleaning and disinfection should be made to combat the virus outbreak.
To control the growth of the virus, medical care facilities should take extra care in protecting their patients and their hospital staff against the virus. Hiring commercial cleaning services in brisbane is one of the sensible things that you can do at this time. With highly effective cleaning supplies and disinfection methods, they'll help you sanitise every area. So the possibility of risk and contamination is minimal.
During these times, you may run out of cleaning supplies and sanitising solutions in your care facility or office. This includes everything from your disinfectant soap and water to household disinfectants and cleaners. So, when hiring a commercial cleaning brisbane team, they will do the cleaning, sanitise and disinfect all the tools and instruments, so that contamination can be prevented.
Also, you can call them as often as you want, and keep the area clean and germ-free. In case if your facility receives many number of visitors, cleaning must be held as often as possible. Moreover, you can discuss with your commercial cleaning team and get your facility cleaned to perfection.
Getting a commercial cleaning service not only helps in keeping the area germ-free, but it also protects you and your hospital staff from infections and cross-contamination.
Bottom Line
If your commercial facility demands a deep cleaning services, ensure to hire commercial cleaners brisbane from Sunshine Eco Cleaning Services. For bookings, call 1300 356 397.