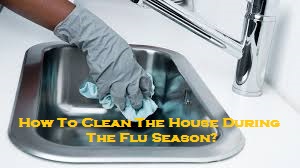 Along with the COVID-19, the winter season kicks in, people who are already staying indoors are prone to bacterial infections and flu. With the less fresh air circulation throughout your home during this season, dust, germs and air pollutants can accumulate and settle everywhere. At this period, house cleaning should be a strict practice, where it helps to prevent your family members from infections. The only way to keep your house clean and pristine is to sanitise all the high traffic areas at home. However, the house cleaning has to be continuous and you can rely on affordable house cleaning services near you.
Use Clean Tools
As the flu season is in full swing, it is more important that you sanitise your home thoroughly and get rid of germs. But what often overlooked is, if the tool that's been used is clean and sanitised. When cleaning the house, it is always good to use fresh tools on hand, which reduces the spread of germs and lower the risk of cross-contamination. If you're hiring a house cleaning services in sunshine coast, make sure that the tools they are bringing are properly disinfected.
Clean & Sanitise To Avoid Germ Build-Up
If you're a busy working individual, you probably won't have the time to clean up the house. However, during this season, cleaning the areas frequently can help avoid the build-up of germs and other allergens. You can hire domestic cleaning services in sunshine coast to do the job for you in this case. And, you can get back home with a relief that your house will be properly cleaned and sanitised.
Hire House Cleaning Professionals
Of course, you can always rely on professional domestic cleaners sunshine coast to clean your home. They have the most advanced and efficient tools to clean up the mess and disinfect your home with effective cleaning supplies.
Sanitise The High-Traffic Areas
As you're likely to spend more time indoors, the chances are high for bacteria to infect. Cleaning these high-traffic areas can be little exhausting as they need constant upkeep. However, having a healthy and clean home is worth it.
Bottom Line
If you want to keep your house clean and germ-free, hire house cleaners sunshine coast from Sunshine Eco Cleaning Services. For bookings, call 1300 356 397.