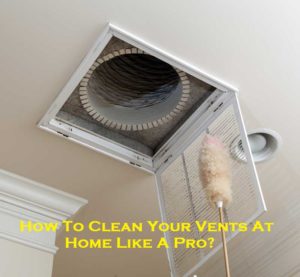 Clean looking vents can make your home beautiful and almost new-looking. You might have forgotten to include them in your house cleaning routine. However, it shouldn't be overlooked. Also, taking the time to clean the vents thoroughly can be a huge benefit to your cleaning routine, whether you clean your home regularly or hire professional house cleaning sunshine coast services. If the vents have been left without cleaning for too long, the plates will start picking up the dust particles from the air. Over time, the layers of particles begin to form a blanket of thick dust that needs to be cleaned. If you have breathing issues or allergic to dust, ensure to clean them.
When it comes to cleaning the dust buildup, if the dust layer is thin, it will be easier to clean. If the dust is grimy or thick, it will take a little more of your effort to clean.
So, here's what you should do:
Arm yourself with a feather duster to dust off the vents and carefully pull off the dust from the vent slates. You can then vacuum up the dust that falls onto the floor.

If the dust on the vent is grimy or thick and stuck onto the slates, you'll need a de-greasing cleaner or lemon-based cleaning spray to loosen the dust layers. This will help loosen the thick layers of dust.

After loosening the dust, use a layered scraper to wipe down each vent blade.

Then take a microfiber cloth to gently wipe off the dust, repeat the step until the vents are thoroughly clean and pristine.

Start cleaning from the top and move to the bottom.

Continue cleaning each slate of the vent.
Bottom Line
By following these simple tips, you can perfectly make your air vents sparkle! Though it would be a time-consuming task, this domestic cleaning sunshine coast professionals will make your house much more beautiful.
Over To You
If you're looking for professional house cleaners sunshine coast, give Sunshine Eco Cleaning Services a call on 1300 356 397.