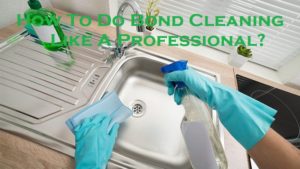 Are you moving out? Perhaps, the final cleaning of the house might only be your big headache. Also, there is no denying the fact that professional bond cleaners make a huge difference when it comes to leaving your house spotlessly clean. They thoroughly clean the areas that were accumulated with dust and grime using the best cleaning supplies and the latest cleaning tools. Almost, every tenant hires trained bond cleaning professionals for the best bond cleaning sunshine coast services and gets their security deposit from the landlord. Though professional end of lease cleaners sunshine coast can make your cleaning job easy, but how you can do the cleaning before you call them in, and that is exactly what we are going to look at.
Declutter
We can't stress enough about decluttering and this is really crucial. If you want to clean your home like a pro, then start by de-cluttering all your rooms one by one. This allows you to clear up the entire premises effectively and efficiently. 
Use the Right Cleaning Tools
If you want to achieve sparkling results, stock some best cleaning supplies and the necessary tools for cleaning. You can even use long dusters to clean your ceiling fans or special wood cleaners for your side table and wooden furniture. Also, get some good quality microfiber cloth, carpet cleaner, duster and dusting feathers to dust and clean the areas.
Window Cleaning
Considered as one of the toughest tasks for any household and if you aim for a streak-free window, you can spray the glass with a window cleaners sunshine coast or a mild cleaning solution to clean and wipe off the dust using a paper towel. The paper towel works best on the glass and gets rid of the stains quickly without leaving any messy streaks on it. You can even consider hiring a professional end of lease cleaning sunshine coast to help you out.
Kitchen & Appliances & Bathroom
Remove the oil splatters, spills, grease and other stains from your counter tops and backsplash tiles. You can use an all-purpose cleaning solution and a microfiber cloth to wipe them off. A kitchen sink also needs deep cleaning at least once a week. While cleaning your dirty kitchen, wipe down all your electronic appliances such as dishwasher, microwave, oven and refrigerator. Remove the build-up food residues, grease, grime and other tough stains using a safe and sound cleaning agent. Alongside, wipe the tiles in your bathroom and make the bathroom sink thoroughly cleaned.
Let The Floors Shine
Cleaning of the house floors is a crucial part. If you want to witness sparkling & shiny floors, ensure to pick the less-abrasive floor cleaning product for better and visible results.
Bottom Line
If you are at the end of your lease period, hire experienced bond cleaners sunshine coast from Sunshine Eco Cleaning Services to help you out. For appointments, call 1300 356 397.