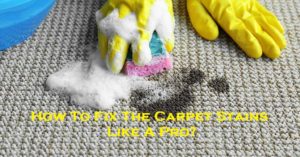 No matter how clean your carpets may look, accidents can happen and all lands on your beautiful carpet. Things like pest stains, food spills, and much more can ruin your carpets and can become hard to remove. And, you shouldn't try any DIY treatments on the stains. Because each stain is different and each requires different cleaning and this is why professional carpet cleaning services can be the best bet for stain removal. You can fix them with some proven quick fix from carpet cleaning in brisbane company.
How To Treat Water-Soluble Stains?
For example if it is a water-soluble stain, it requires a different fix. Stains like, blood, vomit, washable ink, latex paint or wine or any other water stain, you can use vinegar & water mix. Vinegar as a bleaching agent help remove the stain efficiently, it may ruin the texture of your carpet of not diluted with water. So, while using vinegar, make sure to dilute them with water. It also removes the odour gently from the stain.
How To Fix Oil & Wax Stains?
Whether it's a candle wax or a sticky gum, you can remove them easily by placing a towel on them, and heat them up by ironing on it. It hardens them and you can easily remove them by cutting them with a knife. If it's a nail polish, you can use nail polish remover and blot it dry. When using nail polish remover, do not smudge the stain as it damages the look of your carpet. If it's a gum, use rubbing alcohol on them and let it sit for about two to three minutes and gently wipe off the glue from the carpet.
How To Treat Pet Odours?
Pet dander can be downright annoying. Not only the stain looks ugly, but the smell can be intolerable as it contains Ammonia. To deal with this, you can use any mild store-bought cleaning solution to remove the stain and the odour easily. As the pet stain contains bacteria, it can be infectious and damage your health. So, it is better to call upon professional carpet cleaners brisbane to clean it for you.
Bottom Line
If you're worried about carpet stains and looking for a reliable carpet cleaning services in brisbane, hire carpet cleaners from Sunshine Eco Cleaning Services. For bookings, call  1300 356 397.