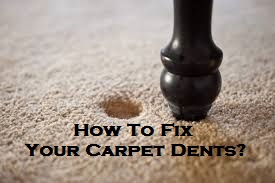 Dents on your carpet? It happens when you move the furniture over your carpets. They are unlikely to watch and can damage the texture of your carpet. Like stain removal, there are many ways to remove dents from the carpet. However, ensure to be careful and do not ruin the texture of the carpet. Steam cleaning is the best option to remove them properly. Even carpet cleaning services in brisbane even help with removing dents from the carpets. In today's blog post, we're going to look at some tips on how to remove the dents from your carpets without damaging them. Let's get started.
Replace Your Furniture Often
The best way to protect your carpets from dents is to prevent it from the first place. Move your furniture every now and then. So, your carpet will not have deep dents. When the furniture stays too long on the carpet, that particular area will have deep dents. So, move them often, and your carpet will get back to its former condition when no pressure is on them.
Apply Some Heat
You can use your iron box to remove the dent. Place a towel over the dent, and iron over them or use a wet towel and blow dry them. Your dented carpet will be able to fluff, and you will be surprised to see the dent. The steam from the blow-dryer will help loosen the carpet fiber and restore the texture.
Use Ice Cubes
If the dent is deep, try placing ice cubes wrapped in a cloth, and let it stay until it turns into water. Then, you can absorb the excess moisture from the carpet with blow-drying method. While doing this, try not to put the blow-dryer too close to your carpet. Whether you're using ironer or blow-dryer, dry you carpet gently, and don't apply much heat; otherwise, you would end up scorching them.
Hire Carpet Cleaners
As carpet steam cleaning is best for dent removal, it also helps kill the germs and allergens from the carpet efficiently. So giving your carpet for professional carpet cleaners brisbane will get the dents fixed, and you'll see a difference on the texture of your carpet.
Bottom Line
Dents, stains, and spills are a common issue for all carpet owners. So, if you value your carpets, invest in carpet steam cleaning services from professionals like Sunshine Eco Cleaning Services. For best cleaning at an affordable price, call us on 1300 356 397 today.