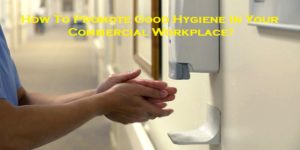 Whether your workplace deals with food products or any other, it is crucial to ensure good hygiene throughout your office premises. It will keep your working employees safe and healthy, which in turn increases productivity. So, invest in a commercial cleaning routine to clean the high touch point areas as well as the usual surfaces where germs can flourish like desks, kitchens & bathrooms. To promote your office hygiene, invest in commercial cleaning services for cleaning and sanitisation of the office space. From helping with your regular office cleaning to sanitising high-touch points, and providing cleaning supplies and consumables, you can gain a lot by hiring a office cleaning in sunshine coast company. If you have been thinking ways to promote good hygiene in the workplace, here are some tips that you can follow.
Set Healthy Reminders
To encourage people on your office premises to follow good hygiene, you can use signage boards to remind people at high-traffic locations about hand washing or face masks, and social distancing on your premises to help them.
Provide Hand Gels & Sanitisers
If it is not possible to have hand washing, you can insist them use hand gels and sanitisers that you provide. Before buying the hand washing supplies, make sure they have at least 60% alcohol as it said to be effective against COVID-19.
Use Air Purifiers
Poor indoor air quality and stuffy air are great contributors to respiratory issues for people with sensitivities. To keep the allergens at bay and keep your employees healthy, you should invest in a quality air purifier to catch even the tiniest dirt from the workplace.
Hire Commercial Cleaners
Our Commercial cleaners sunshine coast experts will use professional-grade equipment & supplies to get rid of the harmful microbes & bacteria from your office space while leaving behind a long-lasting freshness.
Use Harm-Free Eco Cleaning Products
It is best to invest in green cleaning methods where your office premises will be cleaned with green cleaning products. By relying on eco-friendly supplies to disinfect your workspace, you'll not only protect the health of your employees, but you'll also benefit the environment in a better way.
Bottom Line
If you're looking for a reliable commercial cleaning services in sunshine coast to help you with office cleaning, call Sunshine Eco Cleaning Services on 1300 356 397.