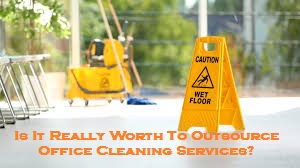 Wondering whether or not it is worth to outsource your office cleaning needs? Before knowing the reasons, let's talk about the importance of having a clean office.
First of all, a clean working environment is favourable to a higher standard of work.
A tidy workspace enriches a person's ability to complete his tasks in a professional manner.
Cleanliness in the workplace improves time management, mental well-being and efficiency of the employees.
A clean office is appealing to the eyes of your employees, business partners and new potential clients.
When you outsource your office cleaning needs to a professional office cleaning in brisbane company, you will be able to take away some of the workload for yourself besides enjoying the following benefits.
Focus More On Core Competencies:
Leaving the office cleaning work to the professional cleaners allows you to focus more on core competencies and pertinent tasks such as client service, decision making and conflict resolution.
Better Cleaning Standard:
A reputable cleaning company will have years of experience in the industry and is able to offer the highest standards when it comes to office cleaning.
Versatile and On-demand Service:
A professional cleaning company will be so flexible and work around the needs of their clients. This means that, the office cleaners brisbane experts will clean the office after the day's work or in the morning before the day starts or even during lunch hours, as per your desired schedule.
Cost-Effective & Profitable:
Although you are paying for the cleaning service, you will save money in the long run in different ways. Firstly, a high standard of cleaning is offered, so your office stays cleaner for a long time. Secondly, there is no pressure to your hands and you can focus more on other important tasks.
Personalised Services:
The cleaning experts work with you to figure out your cleaning requirements and come up with a personalised cleaning package that is tailored to your specific needs. They do what you need to be done and make your life as easy as possible.
For professional office cleaning services in Brisbane, Adelaide and Sunshine Coast, you can contact Sunshine Eco Cleaning Services on 1300 356 397.