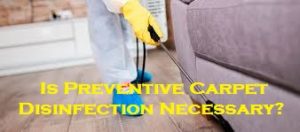 With dangerous infections and the spread of viruses heightened at this point, carpet disinfection is one thing that is needed and surprisingly, it helps to destroy all the harmful microbes that are present on them. Carpet disinfection is a crucial process that should not be neglected. Rugs & carpets with the long pile in traffic areas are prone to attract bacteria and germs, so it's important to disinfect them properly. Just like carpet cleaning, preventive disinfection should regularly be done with specialised antibacterial agents. You can simply hire a professional carpet cleaning sunshine coast company for all your carpet cleaning needs!
How To Disinfect Carpets?
Professional disinfection of carpets must be done at least twice a year. However, if you need to sanitise a carpet at home, here's what you should do:
Take a carpet cleaning solution and add some water to it. If you don't have a cleaning solution, prepare a DIY cleaning spray by mixing baking soda and lemon juice in equal parts with some drops of vinegar. Whether the carpet has stains or smelly odours, this spray will do wonders on them and eliminates the stains immediately.
Also, wear rubber gloves, mask, and protective clothing while preparing the disinfectant solution, as the ingredients generally produce foams.
Before disinfection, the carpet should be thoroughly cleaned from dust and debris with an effective vacuum cleaner.
Then, you can gently proceed to disinfect the carpet. You can use a carpet disinfectant and let it sit for some time. When the solution has finally seeped in, use a soft brush to clean the carpet from the corner. Gradually, move to the bottom and repeat the same to all the other areas.
This cleaning solution greatly improves the texture of the carpets and kills all the germs and pathogens that are causing allergies.
Bottom Line
Preventive disinfection is the best way to keep your pets and family members from bacteria-prone carpets. By keeping the indoors well-ventilated and regular vacuuming, cleaning will be an effective way to deal with bacteria. Also, hire professional carpet cleaners sunshine coast for carpet disinfection to prevent the spreading of fatal infections.
Over To You
If you're looking for carpet cleaners brisbane to help you out, feel free to hire our carpet cleaning brisbane services from Sunshine Eco Cleaning Services. For bookings and enquiries, call 1300 356 397.