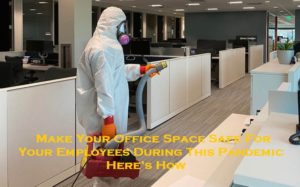 If you're a working individual, the return to work following the COVID-19 might have already begun. Though a very a few percentage of the office goers are moving to offices, office cleaning services in brisbane has now become an absolute priority. This means that businesses need to consider what work activities that these employees will be undertaking, the risks associated with it, and the preventive measures to curb the potential hazards. Read our safety advice for businesses whose employees are hugely engaged in computer-based work at the office.
Keep the carpets clean and sanitise the employee chairs, desks, even the PC & Keyboard. You can even place a disinfectant wipes and hand sanitisers for them to use while working.
Make sure to keep the bathrooms and pantry spotless and sanitise them thoroughly. As these two areas should be properly cleaned & disinfected.
Call office cleaners in brisbane to clean and ask them to sanitise all the areas, especially the high-traffic areas like pantry, cabins, and lounge.
Of course, health is important, set alarms every one hour for all the employees to stretch their body and move around for some time. This will boost their minds and relax their muscles as they continue to sit and work again.
Employees health and safety are still an employer's responsibility. So, providing tools like Blink Alert can be a helpful reminder for them, and also incorporate muscle stretches and desk-based exercises into the work routine, which would help them relax for a while and work efficiently.
Check and record the temperature level for employees every other day and keep insisting on social distancing.
Assure to keep their cabins clean and inspiring, so that it will boost their minds which will result in productivity.
Place disinfectant hand wipes for each one and ensures to trash the washroom and pantry garbage bags regularly.
Keep the office professionally cleaned, and light up the atmosphere with a sweet & refreshing aroma.
Bottom Line
Though businesses are struggling to bring their work routine, if you have begun your office operations, consider taking a commercial cleaning services in brisbane services and make your office space safe for your team. If you're looking to hire commercial cleaners brisbane, call Sunshine Eco Cleaning Services on 1300 356 397.