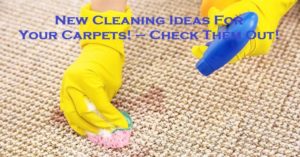 Carpet cleaning is not an exciting chore, but, you can try new methods to make the cleaning easier and more interesting. Carpet floors provide a great share of enhancement to the whole set up. However, the condition of your carpets can make or break your reputation. It is why you must keep them as clean as possible to avoid any embarrassments from your visitors and neighbours. If you maintain regular deep cleaning by hiring professional carpet cleaners in sunshine coast, you can enhance your carpet's looks as it was just bought. So, let's get into some real talks, and check out new ideas for cleaning your carpets.
When it comes to carpet cleaning, you might have across numerous cleaning hacks and tips using baking soda, lemon and vinegar to treat the hard stains. However, you can approach the stains with shaving cream instead. Apply the shaving cream on the stain, and let it sit about on it for 30 minutes, then use the blot dry method to remove them. The stains will easily come off as you remove. This is one of the best stain removal hacks when compared to others.
Sticky bubble gum on your carpet may be the worst nightmare you can imagine. But, not to worry, you can deal with them using a simple ingredient from your fridge and that is none other than ice cubes. Roll the ice cubes in a cloth and let them sit on wax or gum, allow them to harden so that you can easily scrape off the gum without affecting the carpet fibres.
Struggling to fix the candle wax on your carpet? Instead of trying to pull or scrape them from the carpet, just place a towel on them and iron them, the wax will easily stick to the towel and you can take them off.
Deep cleaning the carpets is necessary for it helps to remove the dirt from the deep layer. More than a vacuum cleaner, steam cleaning helps kill 99% of germs from the carpet and make it last longer.
If you're bored about vacuuming your carpets, change the vacuuming schedule and run two or three passes across the carpets to ensure that they're cleaned thoroughly.
Bottom Line
Want to keep the carpets clean and pristine? Let our carpet cleaners from Sunshine Eco Cleaning Services help you out. For professional carpet cleaning services in sunshine coast, call 1300 356 397.