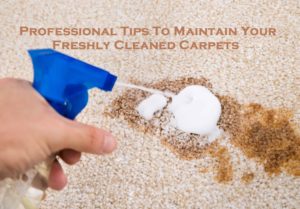 A freshly cleaned carpet will be free from almost all the unpleasant odour and accumulated dust that has been collected over the time. The professional carpet cleaning brisbane team at Sunshine Eco Cleaning Services has compiled the best practices to help you maintain the pleasantness and cleanliness of your freshly cleaned carpets so that it continues to look great for many days to come.
Avoid Walking On The Freshly Cleaned Carpet:
A wet carpet may pose a great danger due to its slipperiness. So, it is important to walk with caution on the carpet. Moreover, walking on the damp carpet will consequently make it to take a longer span of time to dry completely.
Turn Up Your Room Heating:
Increasing your room heating will decrease the amount of time that your carpet needs to dry off. It is recommended to set the thermostat to 75 degree Fahrenheit so that the warmth of the air will absorb the moisture and make the carpet to dry quicker.
Keep Your Windows Open:
Placing your freshly cleaned carpet will typically increase the humidity level in your home. By keeping your windows open, you can reduce the humidity level considerably and help your carpet to dry faster.
Switch On The Fans:
In order to accelerate the carpet drying process, you can turn on your ceiling fan and floor fan. When there is moving air, the time required for your carpets to dry off will be greatly reduced.
Move Your Furniture After 24 Hours:
Your carpet needs a minimum of 24 hours to get dried completely. So, it is advisable to wait at least a day before you move the furniture back in place.
If you need help with restoring the elegance and cleanliness of your carpets, make sure you contact the professional carpet cleaners brisbane of Sunshine Eco Cleaning Services. We specialise in dry carpet cleaning, hot water extraction method, steam carpet cleaning and other carpet cleaning procedures. We also have been helping households and businesses across Sydney, Brisbane, Adelaide and Sunshine Coast with their carpet cleaning needs. To know more about our services, feel free to call us on 1300 356 397.