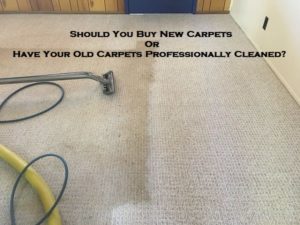 Is your carpet matted, stained or looking a little worse? Are you wondering whether or not you should replace it? Well, there are certain things to consider before making any decision. Let's have a look at those determining factors.
When Can You Get Your Carpets Cleaned?
If your carpet sustains stains that can be alleviated with a professional cleaning, you can consider investing in this service. A professional carpet cleaning company can even eliminate tough stains from chocolate, wine, permanent markers, coffee, etc. When you are in doubt, you can call the experts and ask them what kind of stains that they can handle. Well, it is enough to have your carpet professionally cleaned if the following scenarios are applicable.
Carpet has stains that are superficial
Carpet is not damaged by flood water
Carpet is free from biohazards, mold and harmful allergens
When Should I Need To Replace Your Carpets?
If your carpets have stubborn stains that can't be removed by professional carpet cleaning services, then you will likely need to replace them. In addition, if they tend to harbor allergens and lead to other health hazards, having the carpets replaced will be the right decision. However, here are some instances when investing on new carpets seems to be the best option.
Carpets damaged by flood water
Carpets stained with biohazards
Carpets that harbor allergens and facilitate the growth of mould
Carpets with stubborn stains that did not come out after a professional cleaning
Who Can Help You With Cleaning Your Carpets?
If you have decided to have your carpets professionally cleaned, you can rely on carpet cleaners sunshine coast of Sunshine Eco Cleaning Services. With years of experience in the cleaning industry and state-of-the-art cleaning supplies, we have been providing carpet steam cleaning services to homeowners, landlords, tenants, property management companies, offices, corporate businesses and hospitality sectors across Australia. The carpet cleaning supplies that we use remain gentle on the fibres whilst being harsh on the stubborn stains. So, when you choose us, you can be assured of getting your carpets cleaned without any damages.
If you have any questions on our carpet cleaning process, feel free to call us on 1300 356 397. Sunshine Eco Cleaning Services team are pleased to address any concern you may have.