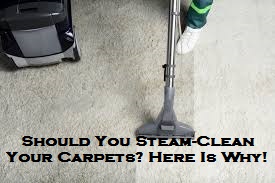 No matter what type of business you own, your commercial property needs clean carpets. The same goes for residential property too! While there are so many carpet cleaning methods available, steam cleaning is considered to be the most popular and effective way of cleaning your carpets. Let's see some of the benefits that you could get out from professional carpet cleaning services in brisbane company.
Steam Cleaning Eliminates Pollutants:
Dirty carpets can hold pollutants such as dust, pet dander, dead bugs, allergens, foreign particles and volatile organic compounds from different sources. These pollutants can be released into the air inside your home or workplace, affecting the indoor air quality. With steam cleaning, these pollutants can be completely eliminated.
Steam Cleaning Alleviates Dust Mites:
Dust mites thrive in moist and warm environments like carpet, mattresses, bedding, upholstered furniture, etc. While regular vacuuming can help preventing their growth, opting for steam cleaning is the best way to completely get rid of them. This is because the dust mites can't survive the high temperature of this cleaning method.
Steam Cleaning Prevents Mould Growth:
Carpet facilitates mould growth which can produce allergens and trigger allergic reactions. When your carpet gets wet by water, moisture can get trapped easily, leading to mould growth. With steam cleaning, the mould and mildew can be completely alleviated.
Steam Cleaning Extends Carpet's Life:
Over the time, your carpets begin to lose its original beauty with traffic taking its toll. Having steam cleaning done every six months not only helps with removing the dirt but also extends the lifespan of your carpet considerably.
Call Sunshine Eco Cleaning Services!
If you want the carpets in your commercial or residential property to be cleaned, you can trust the carpet cleaners brisbane of Sunshine Eco Cleaning Services. We have invested in the state of the art carpet cleaning equipment and technologies that allow us to deep clean your carpets and retain its original lustre and beauty. In addition, your home or workspace smells and feel fresh and clean. To schedule your next carpet cleaning with us, feel free to call 1300 356 397 and book an appointment.