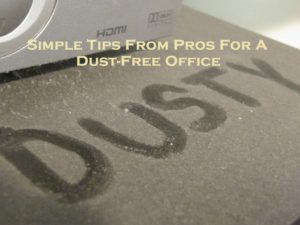 Maintaining a dust-free office is a tough job. That's why most businesses invest in professional office cleaning services in sunshine coast to do the cleaning for them. Dust build-up appears in all of the tough-to-clean and hard-to-reach areas. Dusting is a daunting task that could be annoying you in many different ways including cold & flu and sneezing, & allergies. Dust comes in many forms and is generated from many different sources, so, it is important to stay on top of your dusting schedule.
Start dusting the high surfaces first and move to the downward. It is always best to begin the dusting at one end of the room and move in a clockwise direction.
Cluttered desks are the hotspot where all the dust settles. So, you can move objects such as telephones, paperweights, and pictures, dust under them, and then place them in their actual position.
And, wipe these spots and the dust smudges on walls, desks, etc. with a simple damp microfiber cloth, you can finish the entire area. Also, remember to rinse the cloth when it gets thoroughly soiled, by using water.
When it comes to cleaning your computer monitors or flat TV screens in the conference room, use a dry microfiber cloth and give a gentle wipe. Avoid using paper towels or tissue papers, they can scratch or damage the screen.
When dusting the window blinds, first start dusting across the top. Then close the blinds and dust the entire surface. Close blinds to the other side and dust the newly exposed surface area.
Finally, use a vacuum cleaner to remove dust and clean the hard to reach areas and the carpets.
Bottom Line
Want to keep dust and dirt at bay and increase cleanliness and hygiene in the workplace? Hire a commercial cleaning company in sunshine coast to clean your office regularly. If you're having trouble in keeping your office clean, and dust-free, hire office cleaners sunshine coast from Sunshine Eco Cleaning Services to handle all your office cleaning concerns.  For bookings, call 1300 356 397.