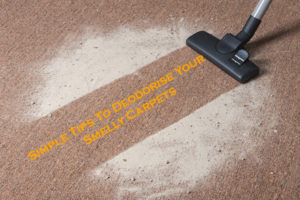 Are your carpets smelling bad all the time? When was the last time you thoroughly cleaned your carpet? Well, if you don't remember, perhaps it's time to call upon a carpet cleaning brisbane service to help you out. How does it feel to have a smelly & stuffy air when you enter your home? It would be intolerable, right. Even if you don't regularly spill things on your carpet, it accumulates dust, dirt tracked in from outside and other odour-causing particles all day long. By the time you notice that your carpet is producing bad smell, the odour would have permanently settled in your carpet fibers. So, by simply vacuuming up the carpets, it won't be sufficient to refresh your room.
Instead of using aggressive chemicals to clean your carpet, consider using baking soda. This is non-toxic, environmentally friendly and deodorises carpet fibers and leaves the room look and smell clean. So, if you're looking for some pro tips to refresh and deodorise your carpets, take note of the tips below. Let's get started.
Sprinkle baking soda generously over the carpet. Let it sit for about thirty minutes. Let your family stay out of the room while the baking soda settles into the carpet, so they don't, unfortunately, breathe the powder or mess around the house. The baking powder traps all the bad smell and ensures to dissolve the particles and refreshes the entire room.
Also, vacuum the carpet thoroughly. To keep the carpet smelling fresh in the future, vacuum more often, thrice a week
Replace the vacuum bag when it fills up. Dab a few drops of a pleasant-smelling essential oil, such as cinnamon or lavender, onto a cotton ball. Add the cotton ball to your vacuum bag. Every time you vacuum, the smell of the oil will release into the room, leaving the carpet smelling and fresh and sweet.
If you're using carpet steam cleaners, using a fragrant-based detergent would dissolve the bad ammonia in the air and remove the stains as fast as possible. So, your carpets will then smell fresh all day long.
Bottom Line
If you're concerned about your carpet's health and want to take upon a carpet cleaning services from professional carpet cleaners brisbane, give Sunshine Eco Cleaning Services a call on 1300 356 397.