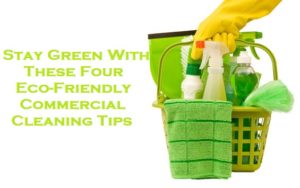 No matter what sort of business you run, one thing is a necessity– cleaning! You could use industrial-style chemicals for your commercial cleaning task, but have you ever thought about the effects these chemicals could have on you, your employees and clients? If you are worried about the effects of harmful chemicals, it might be the right time to join the emerging revolution of green, eco-friendly office cleaning.
What Actually Green Or Eco-Friendly Cleaning Is?
Green or eco-friendly cleaning involves use of the cleaning products and procedures that are designed to preserve the environment and the human health. This means that the cleaning products contain no harmful chemicals but only eco-friendly ingredients that are biodegradable.
How To Introduce Green, Eco-Friendly Cleaning Into Your Business?
Invest In Eco-Friendly Cleaning Materials:
Eco-friendly materials are not only great for the environment, but also save you a lot of money in the long run. Get rid of those harmful cleaners and bring in some green cleaning products. To begin with, you can switch over to a green natural alternative rather than a typical commercial floor cleaner.
Train Your Staff To Use Green Cleaners:
You may practise green cleaning, but what about your employees? If your team goes out and purchases typical commercial cleaning products to clean their cubicles, it overthrows the intention of your business using green products. So, it is important to train your employees to use green cleaning products and engage them in the process of green cleaning.
Introduce Air Purifying Plants:
An easy way to make your office healthier, safer and fresher without the use of harmful chemicals is to introduce some air purifying plants around the space. These plants are known to absorb benzene and formaldehyde gases through the pores present on their leaves. It is enough to add a few plants around the workspace to improve air quality and help your employees breathing fresh and clean air.
Call Sunshine Eco Cleaning Services!
As the name suggest, Sunshine Eco Cleaning Services opt for green cleaning methods and products to ensure reduced carbon footprint and help protecting the environment. Our commercial cleaners brisbane are specialised in handling carpet cleaning, window cleaning, floor cleaning and other cleaning tasks. To know more about our eco-friendly commercial cleaning services in brisbane, give us a call on 1300 356 397 and talk to us today.