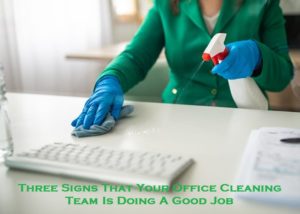 Everyone likes to work in a clean and tidy business environment. Having a good office cleaning team who can leave your premises clean and fresh is not only important to ensure the good health of your employees and customers, but also to increase the workplace morale and your business's productivity. So, it is extremely crucial for you to know if your current cleaning team is doing a perfect job. Here are some signs that can help you out!
Do They Complete Their Full Hours?
Most commercial cleaning in brisbane companies set a particular amount of time to clean a business. When it comes to your cleaning team, make sure they come to their shift on time and complete the work that's been allotted to them.
Are They Well-Equipped To Do The Job?
It is important that your commercial cleaners should be equipped with the right equipment and cleaning supplies to complete their job effectively. So, you must see if they are having a variety of cleaning supplies and are using them properly.
Is Your Workplace Really Clean?
When looking at the surfaces, they might look cleaner than they really are. If you are not sure that your desk is cleaned properly, simply wipe down the surfaces with a paper towel or a microfiber cloth. Also, take a look at every corner of the room when you walk around your office. If you couldn't find any dust, dirt or debris on these places, it is obvious that your cleaner has taken enough time to properly clean them all.
Call Sunshine Eco Cleaning Services!
If you feel that your current office cleaners brisbane is not doing the job right and are thinking about hiring an experienced office cleaning in brisbane company, look no further than Sunshine Eco Cleaning Services. We have decades of experience within the industry and know how to get your office cleaned to its pristine condition. Our office cleaning, carpet cleaning, window cleaning and other commercial cleaning services are available throughout Sydney, Adelaide, Brisbane and Sunshine Coast. To arrange a meeting with us or to know more about our commercial cleaning services in brisbane, feel free to call us on 1300 356 397.