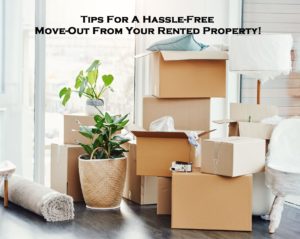 Moving out to a new home is one of the most exciting things in life. Finally, you're going to settle in your new home. However, moving out has always been a headache if you're living in a rental apartment. This is because as a tenant, you become more tense & concerned about the cleaning. On top of all, you have to choose the right bond cleaning services in sunshine coast to get all the core cleaning & repairing job done for you on-time. So, you can shift to your new home peacefully from your rented property. If you're finding the cleaning process and moving out difficult and want to make your move-out hassle-free, we have some guidance that would help you in your next move-out.
Plan, Prepare & Organise
Relocation can be time-consuming and require months of planning before you move out. Without proper planning or preparation, mistakes can pop and ruin the entire plan. If you are living in a rental property then, you should consider hiring a professional bond cleaning in sunshine coast before you leave the property. Moreover, when you compare the cost of buying the equipment for cleaning, you can choose the professional carpet cleaning services for better results.
Prepare A Bond Cleaning Checklist
Just like house cleaning, bond cleaning involves a specialised cleaning checklist.  You can even discuss it with the bond cleaners and ensure all the essential areas of your rental home is thoroughly swept, mopped, and cleaned to perfection.
Inspect The Cleaning
Of course, a clean & pristine-looking house is expected out of you when you hand over the house to the landlord. From the kitchen counter to the bathroom, windows, curtains, ceilings, bulbs, exterior, balcony, you must thoroughly check and inspect the cleanliness of each area after cleaning. If you feel satisfied with the cleaning, you call your landlord for the final inspection.
Hire Pros
If you're worried about the security deposit without deduction and want to move-out peacefully without any complaints and remarks, it's best to call the professional bond cleaners in sunshine coast for cleaning. When you hire them, you can rest assured that quality work will be done.
Save Your Time & Money
Many bond cleaning agencies are offering the end of the lease cleaning services at an affordable cost. By hiring a specialised bond cleaning services in brisbane, you can get the cleaning job done with proper cleaning methods. So, you don't have to waste your money on buying any cleaning products or specific equipment to clean the toughest stains and spots.
Bottom Line
If you're after an experienced bond cleaning services, call Sunshine Eco Cleaning Services on 1300 356 397.