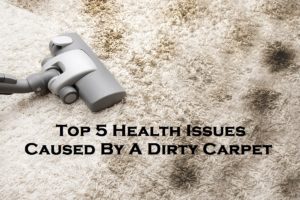 As you all know, carpets in your home or office undergo a lot of wear and tear. They can be ruined by stains, discolouration and traffic lanes, ultimately dampening the healthiest environment. Even if your carpets appear to be clean, they may be harbouring a host of microbes, bacteria and other allergens, finally making you sick.
Below Is A List Of Health Issues Caused By A Dirty Carpet:
Respiratory Issues:
Dust, dirt, soil, pet hair and mould can eventually get trapped in your carpets. Individuals suffering from asthma can feel the symptoms of coughing and difficulty breathing when the particles from the carpet spread into the air.
Allergies:
Build up of dust and dirt in your carpet can inflame your lungs, giving you a runny rose or red eyes. When not cleaned professionally, it triggers an allergy attach and make your day more unpleasant.
Skin Irritation:
Mould and dust mites present in the unclean carpets can trigger itchy skin, rashes, eczema and athlete's foot. Household pests such as rats and roaches are drawn towards these particles, making the situation more complex.
Weakened Immune System:
If you are living in an unclean atmosphere, your body works hard to fight against the disease-causing microbes and allergens. As a result, your immune system gets tired and become weak eventually.
Stomach Illness:
A dirty carpet can cause a variety of health issues, including stomach infection and irritation. The presence of mycotoxins in your carpet put your household, especially kids at risk.
If you do not want to put your beloveds or employees' health at risk, have your carpets cleaned on a regular basis. For professional carpet cleaning in brisbane, trust the experts of Sunshine Eco Cleaning Services. With decades of experience in the commercial cleaning industry, our carpet cleaners brisbane can get your carpets, rugs and upholstery cleaned using the most appropriate cleaning solutions and methods. To schedule our carpet cleaning services, feel free to call us on 044 966 4277.