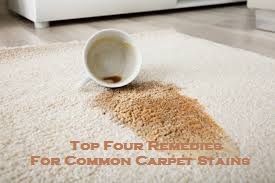 You may love your kids, but not the little messes and stains that they leave on your carpets. Whether the carpet stains are the result of your own negligence or your kids, you can use the below listed tips to address the problem and remove the stains.
Vinegar Can Remove Food Stains:
Add a few drops of vinegar to a cup of warm water and spray the solution on to the food stain. After a few minutes, blot-up the vinegar solution along the stain using a cloth.
Baking Soda Paste:
If the stain still persists, then it may be the time to try baking soda tricks. All you need to do is to make a paste using baking soda and water. Apply this paste on to the stain and wait for about 20 to 30 minutes. Then, you can wipe it out using a damp cloth to remove the stain.
Dish Soap + Vinegar:
If you have accidently spilled fruit juices or coffee on your carpet, you can remove the stains using white vinegar, water and dish soap. Simply prepare a solution using these three ingredients and put it in a spray bottle. Then, spray this solution on the stained area and leave it for a few minutes. Now, you can blot up the stain using a piece of cloth.
Rubbing Alcohol:
 If a pen with an opened tip falls on your carpet, it can do more damage than you think. Rubbing alcohol is a great option to remove ink stains. Simply pour some alcohol on the carpet and blot the stain out. Continue soaking the carpet with the rubbing alcohol and dab at the spot until it goes off.
Call Sunshine Eco Cleaning Services!
If none of these tips works out, you should be calling the professional carpet cleaners brisbane for help. For carpet cleaning in Brisbane, you can rely on Sunshine Eco Cleaning Services that's been offering a full range of cleaning services to households and businesses across Brisbane, Sydney, Adelaide and Sunshine Coast at very competitive rates. Moreover, we have many years of experience in the industry and are able to use the most appropriate carpet cleaning techniques depending on your carpet fabric type. For more information on our carpet cleaning services in brisbane, give us a call on 1300 356 397.