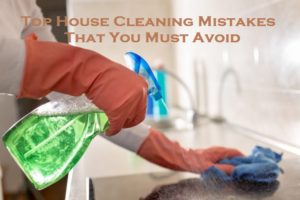 Are you spending the whole day cleaning the house? You can liven up the house cleaning chores with some proven cleaning hacks and tips from the pros. If you don't have the time for the house cleaning job, you can leave it to the professional house cleaners in sunshine coast. On the contrary, if you're an active household, and want to ensure that you do the cleaning right, here are some of the common house cleaning mistakes you should avoid, which can help save your time and you can do the cleaning like a pro. So, now you don't have to spend the whole day cleaning the house. Let's get started.
Cross Contamination
Is your cleaning tools clean enough to use again? Germs usually hide in cleaning tools if not washed properly.  Also, cleaning rags, brushes need to be properly cleaned and sanitised. Some of you may be using the same brush to clean the kitchen which you have used in the bathroom. Isn't it a gross thing to do? So, make sure to use separate cleaning tools for each room and thoroughly disinfect them after the cleaning.
Using Wrong Tools For Cleaning
Are you using the right cleaning tool to clean your house? Perhaps, if you're still using feather dusters to clean the dust, know that you're making them resettle everywhere. To avoid this, you can go for microfiber cloth towels to thoroughly clean the dust away from the hard to reach corners from the house. You can then vacuum the dust off effectively.
Don't Leave The Nooks & Corners
When it comes to daily cleaning, you often overlook the nooks and corners where the dirt builds up fast, and over time it becomes the hotspot for germs and bacteria.
Cleaning In The Wrong Order
When you hire trained house cleaning professionals, they clean the entrance to the last back door room, which prevents the already cleaned places from getting dirty again. So, ensure to do the cleaning in the right order using carpet cleaning professionals.
Don't Wash Windows On Sunny Days
Washing the windows on a bright sunny day will leave your windows with streaks as the water dries faster. Cloudy days are perfect for window cleaning, and it can help your windows look clean and spotless.
Bottom Line
If you're looking for professional house cleaning services in sunshine coast, call Sunshine Eco Cleaning Services on 1300 356 397.