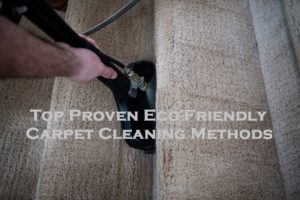 Of course, your health is one of the major concerns that you should consider and get your carpets cleaned at regular intervals.  Moreover, if you're allergic to slight dust, deep clean them once in a while to stay away from allergies and infections. When it comes to carpet cleaning, only certain reputed carpet cleaning sunshine coast companies use eco-friendly ways to clean your carpets. So, when you leave your carpets in the right hands, you will have no health concerns.
Sometimes, wrong DIY treatments or poor household cleaner's carpet cleaning job may cost you several dollars and worsen your carpet's condition. It is because the detergents that were used during the cleaning could have been highly strong for your carpets.  To ensure your approach the carpets with the right eco-friendly carpet cleaning methods, here are some eco-friendly ways to keep the carpet fresh between the professional cleanings. Our carpet cleaners sunshine coast professionals offers the best carpet cleaning services across sunshine coast.
Corn Starch
Dark stains on your carpets are probably the most common problem, but you cannot apply the same tactic for all types of the stain as it varies. For instance, if you have grease on your carpet, corn starch is beneficial to remove them easily. If you have a pet stain, use vinegar and lemon spray to curb and remove the stain.
Borax Powder
If you have an old carpet, keeping it new and appealing can be a challenge. One way to solve this is, you can sweep the carpet well to raise the fibres when they lay flat. Mix one part borax with two parts cornmeal and sprinkle in. Then, use a vacuum cleaner to refresh them and you will be surprised at how much more life your carpet has.
Keep No Shoes Rule Inside Home
A simple but overlooked option is having everyone in the house to take off their shoes before entering the house. It not only keeps the dirt out but keeps several other contaminants at bay. Also, avoid walking barefoot as the oil from the skin can reach the carpets when you walk on them.  You can use socks or separate house slippers to prevent your carpets from trapping dirt and debris.
Over To You
If you are after an eco-friendly carpet cleaning services, hire carpet cleaners sunshine coast from Sunshine Eco Cleaning Services. For appointments, call 1300 356 397.