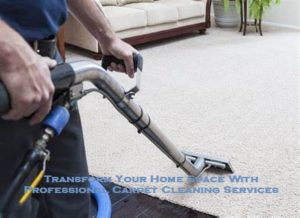 Carpets can give your home the desired appeal and protect your hardwood floors from stains and dirt. Maintaining an expensive carpet can take a lot out of you. While keeping them clean is necessary, you don't have to stress over the daunting job of carpet cleaning. You can hire professionals to do a cleaning job for you.Vacuuming can help your carpets to get rid of the dry soil and dust from the top layer, but a professional carpet cleaning can provide your carpets with an intensive deep clean.
If you've been wondering how professional carpet cleaning can help beautify space, here are our reasons:
We all know that carpets act as a filter and trap in all the dirt and dust. So, when you hire professional carpet cleaners, they would perform an intense vacuuming session that can remove the dry soils and other dirt from the carpets and then they start with the carpet cleaning process. Also, while they are vacuuming they insure to make three or four passes, to ensure all the areas of the carpet are thoroughly cleaned.
Professional cleaners use effective carpet cleaning solutions that efficiently remove the stains and other dirt and are gentle on your carpet. So, you don't have to worry about skin rashes on your pets and children that usually with harsh chemical washing.
Most carpet cleaners insist on carpet steam cleaning and dry cleaning, which minimises the need for more water. Steam cleaning is considered the best cleaning as it kills the germs and bacteria and revives the look of the carpet from within. Also, the carpets will be dried easily and won't take much time.
Professional commercial carpet cleaning ensures to provide the polished look for your carpets as it deeply removes the underlying dirt and debris. Also, with the ongoing pandemic, many carpet cleaning service sanitisation and disinfection service for carpets and houses, so you can be worry-free about cross-contamination.
With a professional carpet cleaning, you can maintain the appeal of your home always.
Over To You
If you're looking to book a carpet cleaning services with us, give Sunshine Eco Cleaning Services a call on 1300 356 397.