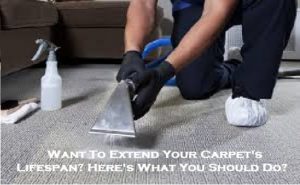 Just like how the roads experience regular traffic and wear overtime, your carpets go through the same phase. With the regular wear and tear, it may become dull and shabby. If the carpet you bought is a huge investment, then making proactive steps to maintain them is necessary. Also, there is a countless number of carpet cleaning services in brisbane to support you with the cleaning. So, to extend your carpet's lifespan, you need to follow certain practices, which not only help prolong the life of your carpets but also make the carpets look fresh all the time. Here are the steps that you must follow.
Regular Vacuuming
You might have come across this term a million times, but, vacuuming the carpet regularly with three or four passes across the carpets will help remove 95% of the debris or dirt that had been underlying. If the debris is unreachable, you can even use a hot water extraction method where you can easily pull off the stubborn dirt. However, ensure to use high-powered vacuum cleaners.
Lay Area Rugs & Mats
If your carpets get in to too much trouble, try using area rugs and mats on high traffic areas. This will protect your carpets from getting dirty. Moreover, you can wash these rugs or mats later as these are designed with water-absorption layers. By keeping these on high-traffic areas of the carpets, your carpets will be protected. Also, keep in mind that your rugs might age as well, so you need to replace them whenever necessary.
Put Entrance Door Mats
Keep doormats at every entrance of your home to keep the dirt away. So, ensure to wipe at least 10 seconds and dust off the dirt thoroughly before stepping into your home. Moreover, choose a rug that is sturdy, and can aggressively pull off the dirt from your shoes.
Maintain Professional Cleanings
Often, professional carpet cleaning brisbane company can be a better option to protect your investment. It rejuvenates your carpet fibres, and keeps it clean from the inside out. Also, it is cost-effective, and instead of a costly replacement, you can save some dollars by hiring carpet cleaning services.
Over To You
If clean carpets are something that you wish for, hire carpet cleaners brisbane from Sunshine Eco Cleaning Services on 1300 356 397.