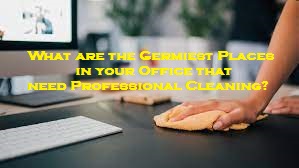 Do you clean your office regularly? Do you know that even the cleanest workplace will still have harmful germs? Surprised? Yes, it is true! As so many people visit your business every day, there are possibilities for the germs to survive, making your office completely unsafe to work in. That's why it is highly recommended to hire a professional office cleaning in brisbane company for thorough cleaning on a regular basis.
Germiest Places In Your Office:
Telephones:
Telephones will easily collect germs as the headset is placed very close to the mouth or face. Even if the telephone's speaker is used, there will be some type of contact as you will be using your fingers to press the buttons.
Door Knobs, Handles & Buttons:
Every one entering your office uses the door handles, knobs and buttons, meaning that germs are passed from one person to another. Wiping down these areas using appropriate cleaning solutions on a daily basis is important to prevent the spread of germs.
Keyboards:
Computer keyboards are extremely germy because there are numerous nook and crannies where dust, debris and small objects can get trapped and play hide & seek with you. Having them dusted and cleaned every day is crucial to prevent it from turning into a breeding ground for germs.
Bathroom:
Bathroom, its appliances and fittings are the germiest places of all in your office. As everyone uses the bathroom, germs can easily spread on the toilet seats and faucets. In fact, the mirrors can even harbour microbes.
What Should You Do To Prevent The Spread Of Germs?
The only thing you can do to avert the spread of harmful germs and microbes is to have your office cleaned, disinfected and sanitised on a daily basis. Here at Sunshine Eco Cleaning Services, our office cleaners in brisbane can make your office shine and keep germs in control with professional cleaning.
Our office cleaning services in brisbane professionals not only include dusting, sweeping and mopping but also include carpet cleaning, window cleaning, floor cleaning and much more, which are available to businesses across sunshine North, Adelaide, Brisbane and Sydney. To know more about our services, feel free to give us a call on 1300 356 397.