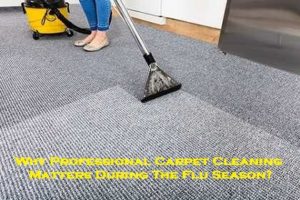 Carpets are always part of your home decor and it is a wonderful asset when used to their full potential. Despite its aesthetic appeal, it even acts as a sound absorber and traps the atmospheric dust, debris everything on it. Unfortunately, they become the scapegoat for food spills, stains, dust accumulation, depression caused by furniture and much more. With that being said, having all the dust and stains not make your carpets look bad, it can trigger dust allergies for people who have cold and allergy issues if left unchecked. So, hiring carpet cleaning services at this time is crucial. If you're someone who is thinking about hiring professional carpet cleaning services in brisbane company during this time, we're going to lend some reasons for you.
Regardless of the type and size of the carpet, when you hire professional carpet cleaners, you will be relieved that your carpets will be cleaned and sanitised properly. Cold and other allergy issues are caused due to cross-contamination. With a professional carpet cleaning services, you can get rid of the dirt and debris from the carpet easily and can improve the quality of your indoor. Also, it helps improve your carpet's appeal and enhance its lifespan.
Muddy shoes, pets, spills, the occasional accident can cause damage to your carpets. That's why it's crucial to have the support of a carpet cleaning team you trust. Moreover, when you invest in a professional carpet cleaning company, remember you're investing in your health, your comfort, and your house value. When people at your home are sensitive to allergies, make sure to clean your carpets regularly and keep them free from dust. If you aren't able to do the cleaning, let the professional carpet cleaners do the job for you.
Even the best vacuum carpet cleaner has its limits. They can only extract the debris on the top layer and can't penetrate deep into the carpet pile. As a result, the bacteria, and other dirt can lie underneath and cause allergies and infections. When you hire a professional carpet steam cleaning services, they'll help extract the dust, dirt, pet hair and other imperfections. It also helps remove the most stains and odours and kill more than 90% of bacteria from your dirty carpets, which is the common cause of cold allergies and infections.
Bottom Line
More than its aesthetic appeal, carpets should be kept clean and tidy and if you value them, ensure to hire professional carpet cleaners brisbane to do the cleaning job for you. If you're looking for a reliable carpet cleaning service, hire Sunshine Eco Cleaning Services. For bookings, call 1300 356 397.