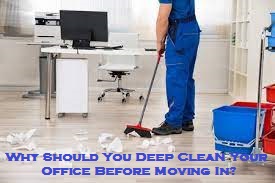 Moving an office involves a lot of work. After going through all the difficult steps to find a safe office space, you still have a lot of works to perform before you completely move your business. Remember that offices are breeding grounds for bacteria and other germs, so there is nothing wrong in putting extra efforts to ensure that everything is cleaned to the highest standards. Hiring a office cleaning in brisbane company can help expedite the office cleaning process and make certain that every nook and corner of the space is properly cleaned and sanitised. Need a list of areas to be cleaned in your new office? Here is one for you!
Desks: Desks are a perfect hotbed for bacteria, so it is important to make sure that these surfaces are clean, sanitised and disinfected properly. This helps preventing the spread of diseases and providing a safe area for your employees to work.
Carpets: Viruses, bacteria, mould spores and even allergens may be lingering in the carpets. Opting for deep carpet cleaning services in brisbane can help getting rid of all the dirt and germs that can be hiding in your carpet. Cleaning all the carpets, rugs and upholsteries before moving in can eliminate dangerous allergens and mould.
Bathroom: Bathroom is another important area in an office to be professionally cleaned before moving in. With so many employees in a business using the same bathroom, the likelihood of being infected is higher if not proper attention is given to clean these areas.
Arrange An Office Cleaning Today!
A clean office space speaks a lot about your professionalism to those who come inside your premises. It provides a welcoming ambiance and fresh breadth of air that makes employees, customers and clients feel comfortable and relaxed. As a business owner, you shouldn't hesitate to invest in an office cleaning service.
Sunshine Eco Cleaning Services has been providing office cleaning, carpet cleaning, vacate cleaning and other types of cleaning services to businesses and households across Sunshine Coast, Sydney, Adelaide and Brisbane at the most competitive prices. If you would like to book any of our commercial cleaning services in brisbane, feel free to call Sunshine Eco Cleaning Services @1300 356 397 and talk to us now.