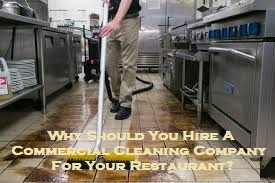 There can be nothing more upsetting to customers than entering a dirty restaurant. If they see a filthy floor the first thing while walking into your establishment, do you think that they will eat there? When the visible parts of your restaurant are grimy, they will leave the premises immediately and would never return. Fortunately, you have an easy fix for these concerns– all you need to do is to hire a commercial cleaning company in brisbane.
Why Hire The Experts?
Access To The Latest Equipment:
Many restaurant owners are hiring professional commercial cleaning services in brisbane because they have all of the latest equipment that not only speeds up the job but also provides fantastic results every time. In fact, they have a vast knowledge on using the right kind of cleaning solution and methods on different surfaces and areas in your restaurant.
Keep Your Cooking Equipment in Better Working Condition:
The commercial cleaners not only clean your restaurant, but also help keeping your cooking equipment in better working condition. For instance, if your oven or microwave builds-up grease, it takes toll on it and makes the equipment less efficient. The professional cleaners in brisbane remove even the last trace of grease from all your kitchen equipment using the right cleaning products.
No Hassle For Your Employees:
Think of your chefs who are working in a kitchen standing on their feet all day and spending another two hours to clean the restaurant. This could really be a nightmare and far from ideal. By hiring commercial cleaning service, your staff members experience less hassle but stay more productive.
No Disruption To Your Business:
Our professional commercial cleaners brisbane will get your restaurant cleaned at the end of the day or at your convenient time, ensuring no disruption to your business. Instead of putting so much stress to your employees, why not hire the experts to handle the job for you?  
For restaurant cleaning services in Brisbane, Adelaide, Sunshine Coast and sydney, you can trust the experts of Sunshine Eco Cleaning Services. Armed with the right people, cleaning products and equipment, we are able to create a custom cleaning program for your restaurant. If you are interested in using our brisbane cleaning services, feel free to call us on 1300 356 397.