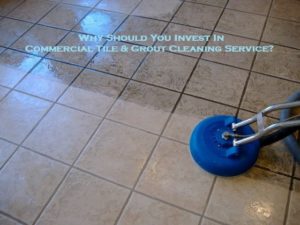 No matter how much you want your commercial flooring to look dramatically clean, it is not possible to achieve the desired results unless you work with a professional carpet cleaning in brisbane company. In the long term, tiles and grout lose their shine and sleekness due to various reasons. Even if you mop them regularly, you can't restore its new look as the dirt will be embedded so deep inside. The only way to achieve a healthy and immaculate appearance of your commercial facility is to hire the experienced commercial cleaners. Here are some reasons that highlight the benefits of professional tile and grout cleaning.
Increased Lifespan:
You can preserve your office tile flooring with routine commercial cleaning. This helps removing dirt, dust, allergens and other harmful contaminants while keeping the floor in the best possible condition for many more years to come.
Make Your Floor Look As Good As New:
Scrubbing out dirt, stains and other messes can give your floor a fresh, rejuvenated look. As the commercial cleaners brisbane clean even the grout cracks, it makes an immense difference and gives your tile a sparkly cleaning effect.
Say No To Harmful Germs & Bacteria:
One of the best ways to minimise health risks within your office is to upkeep the routine cleaning of the tiles and grouts. The commercial & office cleaning in brisbane company utilises the most effective yet the safest cleaning products to get the job done. These products not only kills bacteria and harmful germs, but also ensure that the work zone is safe for everyone in the premises.
Affordable & Flexible:
Professional tile and grout cleaning services in brisbane are so flexible that the experts will carry out the cleaning job as per your convenient schedule. Moreover, they offer tailored, affordable cleaning solution that suits your budget and meet your exact cleaning needs.
Call Sunshine Eco Cleaning Services!
Specialised in office cleaning, carpet cleaning, commercial cleaning and other types of cleaning services, Sunshine Eco Cleaning Services caters to the businesses and organisations across Sydney, Brisbane, Adelaide and Sunshine Coast with all their cleaning needs.  If you have a cleaning project for us, call 1300 356 397 and let us know!