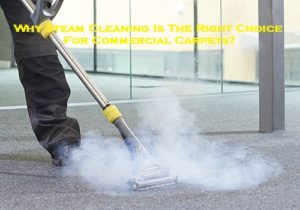 You might have noticed that the popularity of steam cleaning is soaring high in the carpet cleaning industry in the recent times. This is because you can get a cleanlier carpet when compared to other methods. Moreover, other cleaning procedures leave a high amount of chemicals into the floor, which can be very bad for people having asthma or allergies. There are many more reasons why people are switching to steam cleaning. Read on to learn the benefits offered by this procedure.
Sanitary Level:
Using the carpet steam cleaning techniques means your carpet gets the best sanitary wash. While tradition cleaning methods remove debris only from the surface levels, steam cleaning hits the inside of your carpeting and reduces the chances of future accumulation of dust and dirt.
No Discolouration:
Conventional carpet cleaning methods tend to cause discolouration of the fabric, but this is not the case with steam cleaning. As only minimal shampoo and detergents are used, this process is the safest route for maintaining the new look of your carpet.
Minimal Chemicals:
When you choose steam commercial carpet cleaning method, you can enjoy a chemical-free solution. Though it is not entirely chemical-free, the quantity of cleaning agents used is very small and is also safe for kids, pets and those people with asthma and allergies.
Cost-Effective:
Steam cleaning is less expensive when compared to other carpet cleaning methods. As it makes use of less quantity of cleaning solution that is paired with water, it is cost-effective than its counterparts.
Deeper Clean:
Steam cleaning gives you a deeper clean than other alternatives. In fact, steam cleaning is the only procedure that can remove the dirt and dust beneath the carpet's surface. The water solvent used by carpet cleaners brisbane hits the fibres within the floor, ensuring a deeper clean.
Call Sunshine Eco Cleaning Services!
If you want your commercial carpets to be cleaned professionally using steam cleaning technique, you can count on Sunshine Eco Cleaning Services. We have been in the industry for many years and been serving businesses of all sizes across Sydney, Brisbane, Adelaide and Sunshine Coast. For more information on our steam commercial carpet cleaning services brisbane, give us a call on 1300 356 397.