Looking for window cleaning Sunshine Coast? Windows are like small door to the outer world. When you buy a house or office, you look for the view. For shops, windows allow customers to peek in and decide if they want to go shopping. A clean view makes the world look more pleasant. Cleaning house is easy. When it comes to window cleaning it becomes fiddly, especially cleaning the window from outside. This is why for window cleaning Sunshine Coast, always hire Sunshine Eco Cleaning Services. Our window cleaning services are available for both residential and commercial projects in Sunshine Coast, Nambour, Caloundra, Maroochydore, Noosa & all suburbs.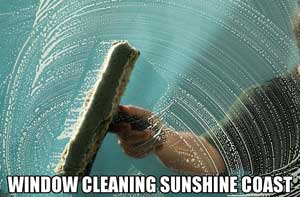 Our Window Cleaning Services in Sunshine Coast Includes :
Full cleaning of glass from both the sides. We clean the glass with soap and water. They are completely dried. This ensures no watermarks are left. For high rise apartments or offices, we have special tools. They help us to reach the most difficult places and confirm you get spotless and clean windows.
The window panes are also cleaned with suitable chemicals. This will not damage the panes.
Sunshine Eco Cleaning Services can also help in cleaning balconies, glass fences, mirrors etc.
The products used for window cleaning are eco-friendly. So, while you get your place cleaned, you keep the environment also free from parabens.
In case, the windows are not cleaned for long, Sunshine Eco Cleaning Services uses a special stain remover. This will take off any stubborn stains from the window.
The team is well equipped with all window cleaning tools and technologies. Be it the sloping window, lofts, staircase or any other not easy to reach the point. We have special machines to reach every corner.
Not only glass, but window sills and tracks are also cleaned thoroughly.
Get benefits from our professional window cleaning services Sunshine Coast :
More sunlight. This helps kill many bacteria and germs in the room. Thus, you get much healthier living space.
Save on light bill. With more natural light coming in, you don't need to put on bulbs. This will save your power bill.
Increase the lifespan of windows. When kept clean, the life of window frame and sill get increased drastically. With no dirt, the nuts and screws have free movement. This will prevent any breakdown.
Prevent or remove any stains due to rainwater or any other chemicals. This will keep the windows looking beautiful.
Unrestricted view from the room or office. Especially for offices, clean windows maintain the positive energy needed for employees to work efficiently.
Prevent investing in replacement of windows by putting a little in maintenance.
Our experience in Window Cleaning Industry in Sunshine Coast
Sunshine Eco Cleaning Services has been providing satisfactory window cleaning services in Sunshine Coast for commercial & residential purposes to over 1000 clients. The clients are both individual and corporates. There is a lot of trusts that customers have on Sunshine Eco cleaning services. We offer:
The complete guarantee of our work: You do not pay unless you are 100% satisfied. We will go that extra mile to make sure you get the best window cleaning Sunshine Coast services in town.
Well equipped: The experts from Sunshine Eco Services Cleaning are fully geared. The vans are refurbished each day. Unlike others, who at times forget the tools and keep running to and from, our team plans well in advance. This makes the work to be done in a systematic manner with no time loss.
Fully trained: All window cleaners Sunshine Coast of Sunshine Eco Cleaning Services undergo three months exhaustive training and test. Only after this they are certified and sent to the field. This ensures they have complete knowledge of materials. Also, they are aware of various techniques to be used in different situations of window cleaning.
Record checked: Your safety is most important. All windows cleaning Sunshine Coast staff is run through police record. Employees have no track record. This ensures you are safe in presence of our window cleaners Sunshine Coast. Also, our team is extra sensitive towards kids, senior people, and pets. They will see that they are comfortable while the window cleaning is going on.
Best products: Sunshine Eco Services cleaning only uses quality products for window cleaning Sunshine Coast. This ensures zero damage to the structure and environment.
Best Service: We understand that your business should keep going as usual. Thus we work all the 7 days. For homes also, you can book an appointment as per your availability. The window cleaning team will make every effort to reduce noise or any kind of disturbance to the neighbors.
Urgent Services: At times, when towards the end of a lease, you may notice dirty windows. In case of an emergency, we can provide same day window cleaning services in Sunshine Coast at no extra cost.
The good news is now you can sign a contract with us for 3 months, 6 months and yearly. To get more details around the contractor for one-time window cleaning Sunshine Coast, contact us using the below:
Call us on 044 966 4277
Email us at enquiry@sunshineecocleaningservices.com.au
So if you are looking for best window cleaning in Sunshine Coast or whether you're selling your house, end of a lease, or just sprucing up, clean windows will make your house look and feel sparkling clean and fresh but for that you need professional window cleaning in Sunshine Coast like Sunshine Eco Cleaning Services provides. All our window cleaning services in Sunshine Coast include inside and outside window cleaning, and the window tracks too. Covering both single and double stories we offer regular 3, 6, or 12-month window cleaning as well as once off window cleaning Sunshine Coast. Window cleaning time will depend on the size and amount of windows your property contains. Most window cleaning services in Sunshine Coast are performed in 2 to 4 hours.
Our Average Prices for Window Cleaning Sunshine Coast
| | |
| --- | --- |
| No. of Rooms | Price |
| 3 Rooms (Single Storey) | $140 |
| 4 Rooms (Single Storey) | $160 |
| 5 Rooms (Single Storey) | $180 |
| 3 Rooms (Double Storey) | $260 |
| 4 Rooms (Double Storey) | $280 |
| 5 Rooms (Double Storey) | $300 |
| 5+ Room | Get Quote |
What do we do in window cleaning in Sunshine Coast?
Fly Screens removed and dusted down
Professional Streak-Free window wash
Both interior / exterior of window
All inside window tracks cleaned