Carpet Cleaning Adelaide – Carpet Cleaning Services Adelaide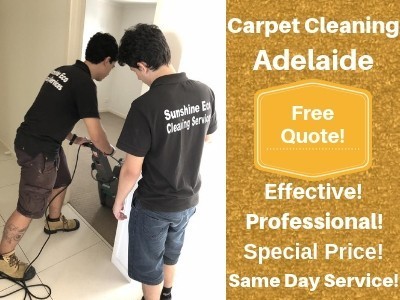 Cleaning your carpet consistently is fundamental to safeguard their unique condition and keep up general cleanliness. At Sunshine Eco Cleaning Services, we have a group of carpet cleaners adelaide who are devoted to giving remarkable carpet cleaning services Adelaide to our clients. Regardless of whether you need your private or commercial carpets & rugs cleaned, we have the best in class gear to convey extraordinary outcomes. With the best scope of synthetic substances, demonstrated methods and propelled cleaning frameworks, we clean and reestablish your carpet to its fresh out of the box new condition.
Why Choose Us?
We will Assess Your Carpet 
During our initial survey, we will carry out a complete inspection of your carpets to evaluate its condition, amount of stains and the type of fabric to determine the cleaning methods. We have knowledge of every type of carpet and can get the job done right the first time around.
We Handle Your Carpets With Care
We are familiar with operating the latest carpet cleaning equipment and using the appropriate cleaning method. When mishandled, the carpets could get damaged seriously. We know the value of your carpets and treat them with utmost care. So, you can relax knowing that your carpets have been taken care of and cleaned to the highest standard.
We Treat Tough Stains
No matter how dirty and untidy your carpet looks, we treat it right and make it look beautiful again. As a certified carpet cleaning Adelaide company, we use stronger yet eco-friendly cleaning agents that are hard on stains and friendly to the fabric. We make every effort to reduce our impact on the environment. As a part of our cleaning services, we add a protective treatment on the carpet to prevent stains from setting in.
We Save You Time
When you take a DIY approach to clean the carpets, you have to move the furniture, vacuum all the carpets, spot treat to remove stains and spend a whole day to complete this tiresome job. However, using our professional service means our experienced carpet cleaners Adelaide will take care of everything, saving you time.
We Restore Your Carpet
Apart from removing stubborn stains and dirt, we aim to restore your carpets to its brand new condition and original beauty. We protect your carpets from mold and mildew growth and help to extend their life. With our professional cleaning, your carpets feel and look fresh.
We value all our clients and exceed their expectation, with a quality service. Whatever your requirements are, we provide you the best carpet cleaning services Adelaide. Contact us at 044 966 4277 for a free quotation today.
Contact Location: