Commercial Cleaning Sydney | Commercial Cleaning Services Sydney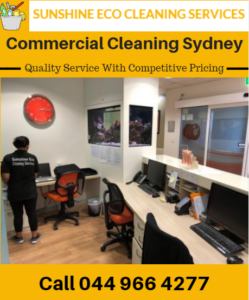 If you are looking for commercial cleaning Sydney, then Sunshine Eco Cleaning Services could be your perfect solution. With over 12 years of experience in the cleaning industry, we offer an affordable yet professional solution for all your cleaning requirements. We undertake every office cleaning or commercial cleaning project with utmost care and dedication to deliver amazing results. Our Commercial Cleaning Services sydney adopts cutting-edge technologies and top of the line cleaning solutions to get the job done right. We have a team of highly skilled cleaners and the latest equipment to ensure a perfect job and an efficient service. Our services include window & carpet cleaning in Sydney and all across Australia to meet your commercial cleaning needs.
We expertise in commercial cleaning services. Hire us for regular & reliable cleaning.
Why Choose Us?
Proactive Commercial Cleaning Approach:
Not every job requires the same approach. We know what it takes to complete any job, big or small. With the right equipment commercial cleaning services we offer are at minimum costs and time.
Wide Range of Industries:
Our commercial and office cleaning services are widely used by businesses, Corporate offices, hospitals, schools, factories and much more. Each industry has a different requirement and we are up to date with every aspect of it. We know what it takes to complete a perfect job on every corner of the property.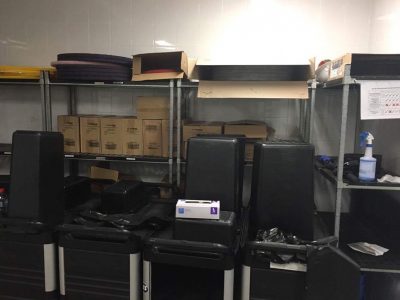 Affordable Commercial Cleaning Services Sydney:
We always aim to provide our cleaning services at minimum prices. Keeping in mind the competition, resource consumption, and our clients, the prices are tailor-made to help you save money and time, yet provide an unmatched service.
Highly Experienced Commercial Cleaners Sydney:
With over 12 years of experience, we have handled all major and minor jobs with the same level of interest and detail. We have mastered the art of efficiency and effectiveness to provide spotless results. Our team loves to clean things up and give it an appealing look.
Bespoke Commercial Cleaning Services:
With a wide range of office cleaning services Sydney including window cleaning, hard floor cleaning, carpet & upholstery cleaning, we can offer you a bespoke checklist that suits your precise requirements. With our personalized services, we keep our clients consistently satisfied.
We are one of the most professional commercial and office cleaners in Sydney you will find. With reliable staffs to take care of all your cleaning needs, we will provide quality services without any hidden charges. By choosing Sunshine Eco Cleaning Services, you can be assured that your commercial premises will be perfectly cleaned and will reflect the professional image to your clients.
If you are in need of office or commercial Cleaning services in Sydney, don't hesitate to contact us at 044 966 4277. we are really happy to answer your queries.
Contact Location:
37/316 Parramatta Road, Burwood, NSW 2334