Office Cleaning Sydney | Office Cleaning Services Sydney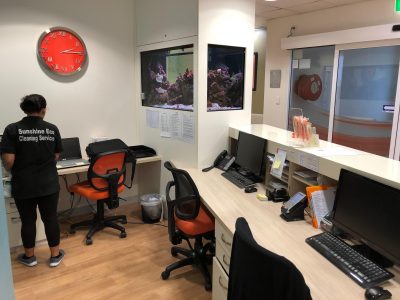 Having a clean environment to work and live in is important to stay healthy and breathe easy. Messy spaces are repressive to the mind and destabilize your productivity and concentration. With years of experience in the industry of residential and Office Cleaning Sydney. Sunshine Eco Cleaning Services takes pride in delivering unrivaled Commercial cleaning services Sydney to our customers. We can take care of all your cleaning chores so that you can get on with your life.
We are the best rated office cleaners in Sydney. Call 044 966 4277 NOW!
Our Range of Services:
Despite the nature of your commercial space, be it a retail or an office space, you can expect outstanding Office Cleaning Services Sydney with immaculate results. Our commercial cleaners in Sydney will clean the rooms from top to bottom and remove the toughest stains, leaving no spot unnoticed. When it comes to business, making a good impression matters a lot.
Our office cleaners will clean your workspace to the best of our abilities and help you create a more productive working environment for your employees. We will go out of the way to provide office cleaning services at the most reasonable prices.
Industrial cleaning requires extra care and strict adherence to the regulations. From basic cleaning to the disposal of hazardous materials, our commercial cleaners Sydney to handle everything and help you maintain the highest standard of cleanliness.
Apartment Cleaning Sydney:
Our skilled Apartment Cleaning Sydney team in Sydney will leave your residential space in top-notch condition. From deep cleaning to sanitizing, our apartment cleaners do everything needed to freshen up your home and bring out its sparkle & shine.
Smudges and dust on the windows are unsightly and hinder you from viewing through. Our window cleaners in Sydney are equipped to clean across every window to restore its streak free and picture perfect condition. So, why not leave the Window cleaning to the experts of Window Cleaning Services.
Our Carpet Cleaning team make sure that your carpets and rugs look and feel great with our thorough cleaning services. We follow a meticulous carpet cleaning process that not only cleanses the dirt but also helps to extend the life of your carpets.
To keep your home & commercial space in Sydney look great inside and out, call us at 044 966 4277 and avail our wide range of commercial cleaning Sydney!