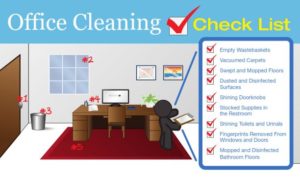 Just as you want to maintain a clean house, you should also maintain a clean office. But, how do you ensure maximum cleanliness and sanitation of your office? Well, we can help! At Sunshine Eco Cleaning Services, we maintain a complete checklist that we stick to while handling your office cleaning sunshine coast needs.
Our Office Cleaning Check-List:
Your Worktable:
Your computer, keyboard and mouse often harbour festering germs. Likewise, your drawer and telephones also become breeding grounds for germs, and require regular cleaning. Our office cleaners use antibacterial solution to remove germs that have gathered all through the day.
Reception Area:
Having your reception area cleaned is a key to making a good impression on your clients. We dust, vacuum and mop the floors, and wipe down the seating area and the front desk every day. In addition, we also get the doors cleaned using the best cleaning solution.
Bathroom and Toilet Areas: 
Cleaning the bathroom and toilet areas is extremely crucial to reduce the risk of spreading germs and maintain the wellbeing of your employees. Our office cleaners will clean toilets, basins and bathroom floors thoroughly, and wipe down door handles and any surfaces with sanitiser. We also empty the bins and ensure there is enough soap and paper towels in the toilet.
Kitchen:
As a professional office cleaning company, we undestand how important keeping the kitchen cleaned and sanitised is. Our commercial cleaners pay special attention to cleaning and disinfecting work surfaces, sinks and floors. In addition, we also clean the microwave oven and fridge as they would become a breeding ground for unwanted germs.
Whether you have a small office or a corporate business, you could benefit from our office cleaners sunshine coast services. From floor and upholstery cleaning to bathroom and kitchen cleaning, we will customise a cleaning program to meet your specific needs. Our office cleaners will work as per your convenient schedule, on a daily, weekly, fortnightly, monthly or emergency basis.
Still wondering how can we help you with your office cleaning needs? Call 1300 356 397 and talk to our experts now. With years of experience in the cleaning business, we know the best ways to create a hygienic environment for your employees.